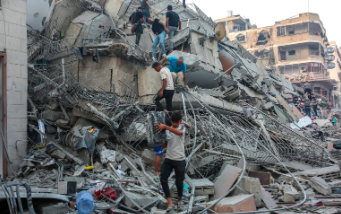 On Sunday, October 8th, Israel officially declared war on Hamas, which is identified by the United States as a terrorist organization based in the Gaza Strip.
     This came after a coordinated surprise assault by Hamas on October 7th, in which over 700 Israelis were killed. It was the deadliest day in decades for Israel, and the conflict was caused by the surging violence between Palestinians and Israelis. Shortly after the assault, Israeli officials announced a "total" blockade of the Gaza Strip. 
          Amid the fighting between Hamas and Israel, over 1,400 Israelis and 8,000 Palestinians have been killed in the past three weeks. According to an Israeli military spokesperson, Hamas is believed to be holding 230 captives; it has so far released four of them.  
     The Biden administration has allied themselves with the Israeli cause. National Security Advisor, Jake Sullivan, told ABC News that the administration supports Israel's right to self-defense against Hamas. 
Story continues below advertisement
     "Israel has a responsibility to distinguish between terrorists and ordinary civilians," Sullivan said. "Hamas, this brutal terrorist organization that conducted the attack, is hiding behind the civilian population [in Gaza], which puts an added burden on Israel to differentiate between the terrorists and innocent civilians, but it doesn't lessen their responsibility under international humanitarian law and the laws of war to do all in their power to protect the civilian population."
      Israel Defense Forces (IDF) have reiterated that their fight is "with Hamas, not the people of Gaza."
     Across the United States, Americans have held large-scale demonstrations both for Israeli and Palestinian victims. On Saturday, October 28th, protesters shut down highway 101 in San Francisco, calling for a ceasefire in Gaza.