FINA bans transgender athletes from competing in women's events
Behind the electrifying races in the ongoing 2022 FINA World Championships, a decision has been made regarding eligibility of transgender athletes competing in women's sports. This decision has been highly anticipated since the NCAA D1 Swimming and Diving Championships back in March, where Lia Thomas, a transgender woman, was crowned national champion in the 500-yard freestyle. With a 71.5% approval vote at the FINA Extraordinary General Congress in Budapest, Hungary, FINA, the international governing body of swimming, released a 24-page policy banning transgender women from competing in women's events effective today.
FINA claimed that "without eligibility standards based on biological sex or sex-linked traits, we are very unlikely to see biological females in finals, on podiums, or in championship positions; and in sports and events involving collisions and projectiles, biological female athletes would be at greater risk of injury."
This is largely due to the performance gap detailed in the policy between males and females after experiencing the effects of puberty.
Husain Al-Musallam, President of FINA, claimed on behalf of FINA that "We have to protect the rights of our athletes to compete, but we also have to protect competitive fairness at our events, especially the women's category at FINA competitions."
Members of the Australian women's team have spoken out in a polarized fashion. Olympic gold medalists Cate Campbell and Emily Seebohm have publicly endorsed the decision. Campbell, a three time Olympic gold medalist and former world record holder, delivered her statements at the ongoing FINA Congress.
"We see [transgender swimmers], value you and accept you," Campbell said. "My role, however, is also to stand up here, having asked our world governing body, FINA, to investigate, deliberate and uphold the cornerstone of fairness in elite women's competition."
Campbell claimed it was difficult for her to decide whether or not she wanted to publicly speak on this topic.
"The policy was created with the inclusion of medical professionals, legal professionals, athletes, coaches and people from the transgender community," Campbell said. "It is a policy that pays attention to inclusion, but prioritizes fairness."
Maddie Groves, also an Olympic medalist and teammate to Campbell, has called out and shamed Campbell for her comments. In a tweet responding to an ABC News article about Campbell's comments, Groves wrote "so you ban them from competing with their peers? You're okay with ostracizing an already marginalized group? Real accepting."
FINA stated that the only exception allowing transgender women to compete is if "[they] can establish to FINA's comfortable satisfaction that they have not experienced any part of male puberty beyond Tanner Stage 2 or before age 12, whichever is later."
Tanner stages, as defined by FINA, "[denote] the five stages of puberty during which individuals develop secondary sex characteristics. Tanner Stage 2 denotes the onset of puberty."
The Human Rights Campaign argues that this policy is an "unrealistic and effectively impossible requirement especially as some states, including Alabama and Arkansas, are attempting to ban transgender youth from accessing the very same age-appropriate, medically necessary gender-affirming care that would allow them to comply with this policy."
In a short statement, Anne Lieberman, Director of Policy and Programs at Athlete Ally, a nonprofit LGBTQ+ athlete advocacy group claimed that the policy was "deeply discriminatory, harmful, unscientific and not in line with the 2021 International Olympic Committee framework on Fairness, Inclusion and Non-Discrimination on the Basis of Gender Identity and Sex Variations."
Lieberman further claimed that this policy would "not be enforceable without seriously violating the privacy and human rights of any athlete looking to compete in the women's category."
FINA claims to be looking into creating an 'open' category "in which an athlete who meets the eligibility criteria for that event would be able to compete without regard to their sex, their legal gender, or their gender identity."
As of now, there are no transgender women at the elite caliber of swimming competition according to a spokesperson for Al-Musallam.
Leave a Comment
About the Contributor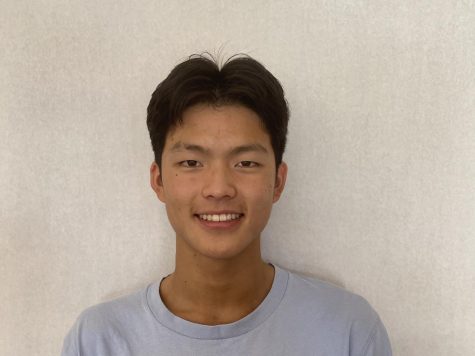 Edi Zhang, Editor-in-Chief
Edi Zhang is a senior and will spend his fourth year on The Stampede as the Editor-in-Chief. He is honored...