Red Ties Robotics's first all-female officer team
Since its founding in 2002, Monte Vista's Red Ties Robotics team has predominantly included more men than women in leadership roles. 20 years later, it has its first all female officer team. 
     Presidents Sanaya Bhasin and Jivleen Parmar and Vice Presidents Angela Parinas and Arianna Zarkesh lead over 65 members divided among six sub teams: programming, 3D design, business, media, mechanical, and electrical. The programming team designs the robot's movements, and the design team creates a 3D model of the robot. The business team seeks grants and sponsors for the team, even receiving some from NASA and PG&E.
     With a multitude of sub teams and tasks, organization and experience in the robotics field are key for execution. Parinas feels there is a need for more organization in the club, including more experience within the leadership team. 
     "I still feel new to the club," Parinas said. "A lot of our leadership is inexperienced; we are still training everyone and training ourselves at the same time."
     Bhasin and Parmar were elected as the business and technical co-Presidents, respectively, in the beginning of last year's season. Being presidents of the club last year, Bhasin and Parmar feel confident in their skills to lead and take charge. However, they still experience challenges as women in the industry. 
     "I think it's definitely more of a challenge to have your voice listened to [as a woman]," Parmar said. "We do as a society train people to have that implicit bias to listen to women and trust their capabilities less which I have seen in my team."
     Nationally, women make up only 28% of the STEM workforce as stated by the American Association of University Women (AAUW). With fewer women in STEM careers, girls feel underrepresented and lack role models to look up to. 
     "More women [should be in the workforce]", Bhasin said. "Women deserve leadership positions in the following year. It would be sad to see [women's interest in STEM] decline."
     The team works throughout their season to compete in First Robotics Competition (FRC). Last year, they even traveled to UC Davis to compete in California's state-wide FRC. To improve this year's performance, Bhasin's goals are to "be more efficient, communicative, and maintain member engagement year round." 
     "We want to place well in our competition, fully train members in their corresponding fields, and of course, have fun along the way," she said.
Leave a Comment
About the Writer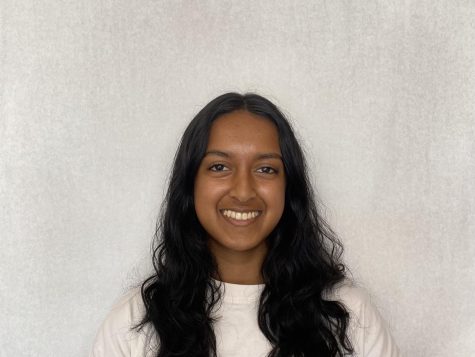 Arushi Patra, Staff Writer
Arushi Patra is a junior in her first year on The Stampede. As a Staff Writer, she is excited to write...