REVIEW-Lemonade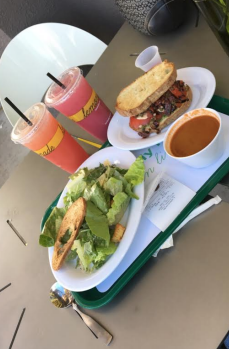 If you enjoy comfort food and the nostalgia of a cafeteria, then the newly opened Lemonade  in Walnut Creek is just what you're looking for. 
    I visited this cafeteria style restaurant around 1:30pm on the Monday of Thanksgiving week. It was not too crowded with no line, however, just very little seating inside or outside. The inside seating offered is booth and bar style with views of the newly renovated Broadway Plaza area of Walnut Creek, the outside tables are adjacent to the sidewalk so be prepared to have many passers by co-mingling with you and your dining companion. 
    The restaurant's concept is cafeteria style comfort food, so you walk up to the counter and pick and choose your meal as you browse the healthy offerings from behind the tall clear glass panels, while sliding a large plastic tray along the waist high counter. 
    While all food appeared fresh and tempting, my lunch companion and I decided to order from the salad selection area, the sandwich menu and the hot foods menu. The ceasar salad was made up of fresh greens, shaved parmesan and the dressing was tossed in front of us (there is an option of having the dressing on the side). The tomato mozzarella panini was on thick sourdough bread toasted perfectly, with fresh mozzarella, large slices of ripe tomato and a tapenade that had a hint of spice.  Finally, the cup of tortilla soup was like a hug from your abuela. 
    One can't go to a restaurant called Lemonade and not order the lemonade. We tried two of the many flavor varieties, the Blood Orange lemonade and Pomegranate Tarragon lemonade. Both were pleasing and refreshing. The blood orange was a bit sweet and the pomegranate tarragon was sweet with a bit of savory in the mix. 
    Although the restaurant is quite new and clean to the eye, the bus service was slow in clearing tables and in replacing the silverware that is housed in plastic cups on the open table for any fingers to explore.
    While we enjoyed our shared lunch, the tab came to just over $27, a bit steep on a student budget for lunch, but we were fully satisfied after completing our entire meal. 
Restaurant: Lemonade
Hours: 11:00AM – 9:00PM Monday – Sunday
Address: 1348 Broadway Plz, Walnut Creek, CA 94596
Phone: (925) 231-0066
Website: http://www.lemonadela.com
Cuisine: Sandwiches
Price: $$