REVIEW-Vitality Bowls: the new healthy food in town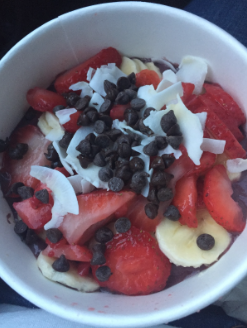 If you love healthy, nutritious snacks that are delicious and fruity, you'll love Vitality Bowls because it provides you with a full menu of nourishing acai bowls and drinks.
     You're probably going to want to try its most popular bowl by far- the desert bowl. It may not sound very healthy but it actually has a blend of only beneficial ingredients. Made up of organic acai, bananas, strawberries, coconut milk, coconut shavings, and chocolate chips, the small bowl provides the perfect, fruity snack to go before a nice workout or a small meal. If you're looking for a more filling meal, you can go for any of the bigger sized acai bowls, such as the Green Bowl, Tropical Bowl, or the Nutty Bowl.
     The newly opened Vitality Bowls in Downtown Danville has been a big hit, especially for high schoolers who love salubrious, non-fat foods. Crowded with athletes, high schoolers, and families, it is clear that it has become a big hit and many's favorite.
     The small store is located conveniently in Downtown too, offering people other stores close by that they could go shopping or meet up with people easily with. Parking is also not a problem- there are plenty of street parking or parking lots in walking distance.
     When I went to visit and eat there, I picked out the customers' most favorite: the dessert bowl. I was hesitant at first, but the first bite changed it all. The delicious, cold acai mixed with strawberries and bananas was amazing as it melted in my mouth.
     If you don't like specific ingredients, you can request to take it out or put something more in, or you could make your own bowl from scratch as well- it is very flexible. They also provide smoothies, fresh juice, salads, and soup if one bowl isn't filling enough and you'd like a bigger meal.
     The pricing may be a little expensive as to the size of the bowl you get, but I believe it is worth it because it tastes delicious. For example, paying $10 for a small bowl of a mix of fruit and acai is kind of a stretch when one can even make one at home by themselves. But considering the quality of the ingredients and fruits used, many organic, I would very well state that you get what you pay for.
     Overall, I thoroughly enjoyed my visit to Vitality Bowls and will for sure be visiting again soon. The perfect blend of tasty yet healthy food blends in perfectly with many Californian's diets and it is evident why it has become popular amongst many.
Vitality Bowls- A branch of Superfoods Café, an acai bowl restaurant in Danville Downtown.
Location: 190 Hartz Ave #150, Danville, (925) 791-5180, vitalitybowls.com
Prices: Dessert and Breakfast Bowls- $7.49, Acai Bowls- $9.99 to $13.49, Smoothies- $6.49 to $7.49
Details: Mon-Sat. 8 a.m. – 8 p.m., Sun. 8 a.m. – 7 p.m.
Recommended Dishes: Dessert Bowl, Acai Bowl, Nutty Bowl