Lia Thomas: a step away from fair competition
  In the recent NCAA Division 1 Swimming and Diving Championships, Lia Thomas created a storm of controversy over transgender women athletes after winning the 500-yard freestyle. 
     Thomas, a third-year student at the University of Pennsylvania, had swum her first two years on the Penn Men's team before she began transitioning to female through hormone treatment. After she started competing against women, she soared from a mid-500's ranking (as a male) to having the top times in the nation among women in mid-distance freestyle events, establishing her position as an NCAA record contender. Her outstanding performances, as demonstrated by her dominant victories in multiple events in the 2022 Ivy League Championships, were quickly followed by controversy.
     If a transgender woman has undergone testosterone suppression for over a year, the NCAA permits her to compete with women. The NCAA's policy is a source of controversy. Although Thomas had fulfilled the NCAA requirements, she had transitioned from male to female after going through puberty as a male. A study published in May 2020 by the International Journal of Environmental Research and Public Health, titled 'Sex Differences in Swimming Disciplines—Can Women Outperform Men in Swimming?,' evaluated the biological differences between men and women in swimming.
     "Current evidence indicates that women will not swim as fast as men in Olympic events, which justifies sex segregation in these individual sport disciplines," the study said. "Men have an advantage of larger body size and muscle mass, a superior ventilation function and anaerobic and aerobic energy transfer systems."
     Complaints about Thomas from other athletes and coaches in the Ivy League were allegedly ignored by the Ivy League as well as the NCAA. John Lohn, the editor-in-chief of Swimming World Magazine, the leading swimming news outlet, wrote in a recent article that "when the Ivy League and Penn told swimmers to accept the situation, it was clear that one person's rights were valued over hundreds of others."
     However, worries over accusations of transphobia kept many of Thomas' teammates and coaches silent on the issue. When Swimming World Magazine first covered Thomas' exceptional performances, it suggested that Thomas not participate in the NCAA Women's Championship, but "be given an alternative opportunity to display her talent in the pool."
     The article resulted in strong accusations of transphobia. 
     "But this debate – once again for clarity – is about fairness, and everyone on the blocks having an equal pre-race chance," Lohn wrote. 
     And Lohn is right. The entire controversy is completely separate from transphobia; it is about fair competition.
     Many parents of Ivy League swimmers were outraged to see Thomas competing and authored an op-ed titled, "Letting Lia Thomas swim isn't fair," which was published by the New York Post.
     These parents argued that the NCAA policies that allowed Thomas to compete against women were unfair to other female athletes, and claimed to "have witnessed firsthand the utter abandonment of women and girls."
     Watching Thomas break records and destroy the field was difficult for former swimmers to watch.
     Nancy Hogshead-Makar, an Olympic gold medalist swimmer as well as an advocate for women in sports, wrote an editorial responding to Thomas' performance at the NCAA's. Hogshead competed against East German athletes when they were engaging in state-sponsored doping. 
     "The [East German] boycott [of the 1984 Olympics] announcement was a relief," Hogshead-Makar wrote. "I knew I'd have a fair shot at winning."
     Hogshead-Makar was 10 years old when Title IX, a law preventing gender discrimination and permitting sex-segregation in sports, was passed and remains a strong advocate for the law.
     "If Congress and courts had forbidden sex-segregated sports, I would have qualified for my high school team, but I'd never have been the Hall of Famer that I became," Hogshead-Makar wrote. "I doubt I'd have competed past high school."
     Hogshead-Makar further claimed that Thomas' biological advantage had not been mitigated.
     "The average differential in the men's and women's 'A' standard times for NCAA championship qualification is 11.41%," Hogshead-Makar wrote. "Lia Thomas, however, is not 11% slower. She is only 2.6% slower than she was pre-transition in the 200-yard freestyle, and just 5.76% slower in the 500-yard freestyle. [Thomas] was never in that category of standout athlete for the many years she competed as a male."
     Despite the outrage over Thomas, the NCAA remains at the center of criticism. 
     "This isn't Lia's fault," Hogshead-Makar wrote. "The problem is with the NCAA's rules that permit Penn to keep her on their women's team. We'd never allow 25-year-old men to compete in boy's high school events. And we would never tell those boys to just 'work harder' if they wanted to win."
     During the NCAA Championships, protesters stood outside the venue holding signs saying "Save Women's Sports." In a Twitter video of an interview with a member of the Women's Virginia Tech swim team who was competing at the NCAA's, the swimmer was shown wearing a sticker saying "Say NO to males competing as females."
With Thomas, the ambiguity between gender and sex creates misunderstandings. While her gender identity is female and therefore should not be referred to as a man, her biological sex-her chromosomal and genetic makeup-is still male.
     Reka Gyorgy, a 2016 Olympian, placed 17th in the preliminary competition of the 500-free in her final NCAA championship of her career. The top 16 swimmers qualified for the final. In the Twitter video, her teammate claimed that "it's heartbreaking to see someone who went through puberty as a male and has the body of a male be able to absolutely blow away the competition. And then as a competitor you have to go into it with a mindset that you don't have a chance."
     Gyorgy later released a statement criticizing the NCAA for allowing transgender women to compete. 
     As for Thomas, critics, including tennis legend Martina Navratilova are already calling for her records to have asterisks placed next to them. As a lesbian, Navratilova is an activist for LGBTQ rights, but is strongly against allowing transgender women athletes to compete with women, denying accusations of transphobia.
     Reneé Richards, a professional tennis player and Navratilova's coach, is a transgender woman who was involved in a landmark Supreme Court case requiring genetic screening for female athletes. Her name became widely known after she competed in the women's draw at the U.S. Open in 1976 as a transgender woman. According to Navratilova, even Richards is against Thomas being allowed to compete.
     "Looking back, [Richards] thinks that she shouldn't have been allowed to compete 40 years ago," Navratilova said in an interview with NewsNation. "She had an advantage and she knows that."
     Legendary swimmer Michael Phelps did not take a direct stance on the controversy, instead claiming that it was "very complicated." However, in an interview with the New York Post, Phelps began to talk about his own experiences of competing against an unfair field, referring to swimmers who have been suspended because of doping as well as 'technical doping' involving supersuits.
     "We all should feel comfortable with who we are in our own skin," Phelps said. "But I think sports should all be played on an even playing field."  
     In 2009 when Paul Biedermann defeated Michael Phelps in the 200 meter freestyle, demolishing his world record while wearing a 'supersuit,' the legitimacy of Biedermann's world record was questioned. The record still stands today and is considered technical doping by many critics.
     The core values of the NCAA are "well-being, fairness, integrity, and teamwork."  In order for the NCAA to abide by its core values, why not, as Navratilova suggests, change the Men's categories to Open, where all genders are allowed to compete, and limit the Women's categories to the female sex?
Leave a Comment
About the Contributor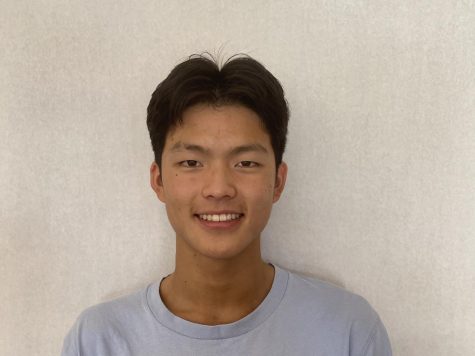 Edi Zhang, Editor-in-Chief
Edi Zhang is a senior and will spend his fourth year on The Stampede as the Editor-in-Chief. He is honored...