SRVUSD Provides Free, Rapid COVID-19 Home Tests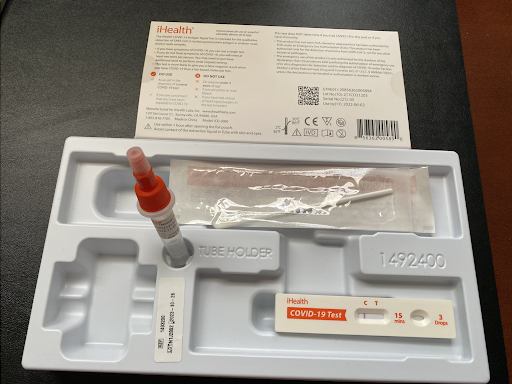 As the number of COVID-19 cases hits record numbers in the United States, COVID-19 rapid tests are needed now more than ever. Starting on Jan. 19, 2022, the U.S. government, including the SRVUSD school district, began distributing thousands of free rapid tests to families across America. 
     The Biden Administration has promised to provide 500 million free, at-home, rapid COVID-19 tests. The scale of such a proposal was only hoped for during the beginning of the pandemic in March 2020 when COVID-19 tests were available at certain locations, such as health care centers, schools, etc. Studies have shown that routine testing for COVID-19 substantially reduces the risk for outbreaks. 
     Since March 2020, the U.S. has quickly expanded the production of COVID-19 tests and can now process many more tests at a faster pace than at the beginning of the pandemic, taking only up to 24 to 48 hours to provide results instead of up to a week.
     These first tests were polymerase chain reaction (PCR) tests, which are a type of molecular test, and continue to be the most widely used COVID-19 diagnostic test. They work by looking for specific genetic material from the SARS-CoV-2 virus and are highly accurate. 
     The tests you can now get for free from the SRVUSD school district or covidtests.gov are antigen tests; similar to how a pregnancy test works. Rapid antigen COVID-19 tests work by detecting specific proteins instead of genetic material, requiring a high amount of virus to turn positive. Like a PCR test, antigen tests require the swabbing of the nose. After any potential COVID-19 proteins are picked up, the swab is dipped into the testing solution. About fifteen minutes after putting a few drops of the solution into the sample well, the test will read two different ways. According to the FDA COVID-19 test instructions, two distinct lines may appear, one red line below the "C" and one blue line below the "T." If both lines show up, this reading indicates a positive COVID-19 test. A negative reading will appear as a single red line below the "C" on the test. 
     In comparison to PCR tests, antigen tests are not as sensitive; studies by the CDC have shown that accuracy can be anywhere between 30% to 90%. However, the short period of only 15-20 minutes for results makes these tests incredibly convenient. Moreover, antigen tests can be done at home, comfortably, and with minimal training or direction. This sparked the beginning of the rapid spread of at-home COVID tests. These tests are also cheaper to produce and easier to provide to the public. 
     To get the best results possible from an at-home COVID-19 test, follow the specific instructions provided to you along with the test.
     Out of the different types of tests, which are the best to take? If an immediate result is needed, an at-home antigen COVID-19 test is recommended. However, if time is available to either get the molecular test or the ID NOW test, those are the recommendations as they are more accurate. 
     If you take a COVID test and it comes back positive, the first thing that should be done is to self-isolate, but for how long? 
     When you get a positive COVID-19 diagnosis, but no symptoms are present, it is recommended to quarantine for ten days, or until a negative COVID result occurs. When mild to moderate symptoms are present, quarantine is recommended for ten days, including 24 hours without any symptoms, or a negative COVID test once symptoms aren't present. If severe COVID-19 symptoms are present, isolation may take up to 20 days, or when a true negative COVID result is present.
     There are other times you may have to quarantine without being positive for COVID-19, however. If you are exposed to COVID-19 and tested negative, or were not tested at all, it is recommended to quarantine for 14 days, testing regularly. 
     The amount of time to quarantine, however, changes often as CDC guidelines change, so you should look to governmental institutions (cdc.gov) for the latest and best COVID-19 advice and information. 
     Now, where can COVID-19 tests be found? There are many different ways one may acquire COVID-19 tests. The first is to simply buy one at your local pharmacy or any store that sells them. The second option is to order free COVID rapid tests through the government's new website, covidtests.gov. Any U.S. household is eligible for 4 free at-home tests, which usually take 7-12 days to arrive. 
     Another way to get tested for COVID-19 is to go to a testing site near you, which can be found through a simple Google search. You could go to your nearest walk-in clinic, hospital, doctor's office, pharmacy, or SRVUSD school. On the SRVUSD website, there is information about which schools offer free testing on certain days of the week. For example, at Monte Vista, free COVID testing is offered every Monday and Wednesday.
Leave a Comment
About the Contributor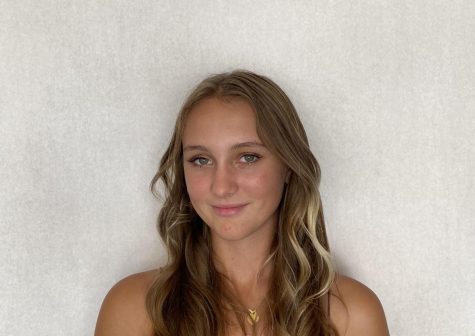 Esther Premazzi, Sports Editor
Esther is a junior at Monte Vista and is currently in her third year on The Stampede. She is looking...