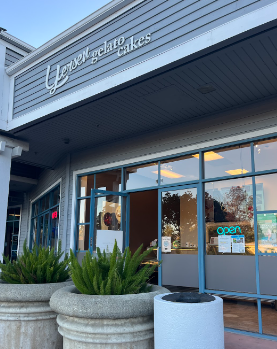 There is something beautiful about buying from small businesses, purchasing to the warm greetings of workers you've grown to know over the years. Memories are built within walls that express the lives of the store owners, individual and wholly unique. Small businesses capture the essence of suburban towns like Danville, fueled by family clientele taking breaks from run-of-the-mill brand names. Students often frequent these places, discovering hidden gems they feel should be shared with the entire Monte Vista community.      
     "Ever since I was little my family would make a weekly habit of visiting a handful of small businesses" said Sans Arun, a sophomore at Monte Vista. "My favorite spots always felt closer to my heart, like I was supporting real people instead of established, multi-billion dollar corporations." 
     We talked to Monte Vista students and found that Lottie's Ice Cream, Lilikoi Boba, and Blue Line Pizza were the top three preferred small businesses. Lottie's Ice Cream garnered overwhelmingly positive responses, proving to be a campus-treasured shop. They are known for their delectable ice cream, declared by students as the perfect accompaniment to any warm afternoon.
     "It's so good. It's gourmet ice cream, they use fresh ingredients to make it and it's always so delicious" said Ollie Friesen, a senior at Monte Vista who has been purchasing ice cream from Lottie's since her freshman year. "My family loves to go."
Story continues below advertisement
     There are so many amazing spots still to be discovered in Danville. The Monte Vista student body supports small businesses in their community, breaking away from the usual Starbucks or Chick-fil-A run in favor of something a little more local. Small businesses offer something special, born from the careful cultivation of real people who are passionate about their craft. The result is something singular and wonderful, whether their efforts culminate in a mouth-watering slice of pizza, or the perfect ice cream recipe. Supporting small businesses props up your local economy, creating a surplus of jobs that often go to Monte Vista students as they enter the workforce. In this way, supporting local businesses is essentially indirectly contributing to the success of everyone in the community.