Phone banks, phone cubbies, and the Hotel Calipeña
It's a well-known fact that most teachers at any school do not like it when their students are on their phones during class. This led to many teachers here at Monte Vista getting creative and developing their own ways to create a phone-free learning environment.
One good example is Mrs. Perruso. Mrs. Perruso is a sophomore world history teacher who created what her students call, "The Phone Bank." Every day at the start of class, her students have the opportunity to turn their phones into the phone bank, which is really just a cardboard box, and then mark their name off on a clipboard.
At the end of each quarter, the students are rewarded with extra credit points. The amount of extra credit earned depends on how many days the student decided to turn in their phone to The Phone Bank.
Alaina Hobden, one of Mrs. Perruso's sixth period students, is a great supporter of The Phone Bank.
"I think it's [The Phone Bank] a great way for kids to stay focused and get opportunities to get extra points," Hobden said.
Some teachers, such as Mrs. Poole who teaches japanese, do not give their students the choice of whether or not they get to keep their phones for the class period.
"Students are incredibly distracted by their cell phones," Mrs. Poole said. "And it got to the point where I felt that students just were not present and japanese is a language where you really have to be there and pay attention."
For Mrs. Poole, her phone policy just started this year. According to her, last year so many kids were distracted by their cellphones which led her to come up with her brilliant idea: the phone cubbies.
"I got these shoe cubbies from Target and I labeled them with a number in japanese, and it corresponds to their number on the roster," Mrs. Poole said. "So when they walk through the door, they have to put their phone in."
Mrs. Poole is really excited about her new phone policy, and she says her students are actually grateful as well. In fact, so far she has received zero complaints from any of her students regarding the new policy. Her policy makes it so the students have no choice but to pay attention while still always knowing that their phone is safe.
Like Mrs. Perruso, Mr. Peña offers extra credit for turning in your phone to what his students call, "Hotel Peña".
Hotel Peña consists of rows of plastic cubbies, and each cubby corresponds to one seat on Mr Peña's seating chart. At the beginning of each class period, the students can turn their phone into their designated cubby. If the students do this every day for one unit, then they will receive extra credit on that unit's test.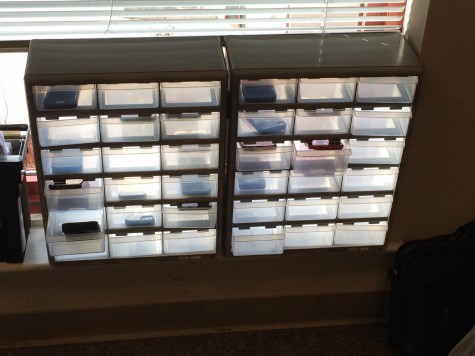 Grace Damaschino, a sophomore in Mr. Peña's fourth period algebra 2 class, loves Hotel Peña.
"I really like the phone hotel because you don't use your phone in class anyway, unless you're trying to sneak it, and it's an easy way to get extra points which can mean the difference between an A and a B," Damaschino said.
According to Grace, everyone checks their phone into the hotel in her class, so it's clear that students appreciate the extra credit opportunity.
Mr. Peña likes the hotel himself because he doesn't want to make taking his student's phones a negative process, and it causes the students to be disciplined with themselves.
Last but not least is Ms. Little, the expository writing teacher who enforces the phone jail.
According to senior Reilly Olson, Ms. Little has a phone jail. If Ms. Little catches a student on their phone when they aren't supposed to be, then she will take that student's phone and put it in jail.
The only way for the student to get their phone back before the end of the period is if they are able to answer the question that she hands them on a "get out of jail free".
"I've only seen one guy in our class have to do it so far and it was pretty hilarious," Olson said. "I think it's a really creative way to curb cell phone use without just threatening students."
From phone banks, to phone jails, to phone hotels, Monte Vista's teachers have really thought outside the box on how to enforce the cell phone policy in exciting and beneficial ways.