Assassins: are you in or out?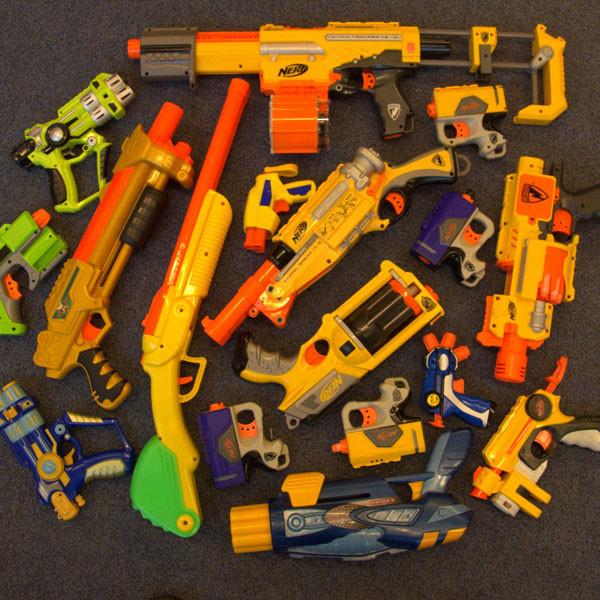 Each year, seniors at Monte Vista come together to play a game called Assassins. It is an unusual way to send off seniors, showing they truly are the sharp-shooters of the school.
In Assassins, 110 groups of 3 seniors are formed, each carrying one or more nerf guns. The object of the game is to "shoot" players from other teams, while trying to keep you and your team members safe.
Players are not allowed to shoot other group members at any time on-campus. Anywhere off-campus is considered an active area for all players.
Senior Dustin McMichael, who manages the game, breaks down the rules and safe zones for the game.
"Basically any Monte Vista event, jobs, sports, etc. are all safe," McMichael said. "Besides that, if the teams want to establish their own safe zone between themselves they can do that."
Players can get disqualified from the game, but it's fairly difficult to have that happen to you, as McMichael likes to make the game as enjoyable as possible.
"Someone could be disqualified if they broke a rule in a time where they would clearly have gotten out," he said. "Or if they continue to break the rules. I don't want to disqualify anyone so usually a different punishment is agreed on."
Senior and Assassins player Hannah Kim, also believes the game can still be fun as long as issues do not come up throughout the course of the game.
"Overall with my team and the opponents we faced, we haven't had any issues," Kim said. "We try to avoid issues that may affect others."
As more and more teams get disqualified, the game becomes more competitive. As of now, very few teams remain, and tensions continue to rise.
"…It's always been very competitive," McMichael said. "So far not much has changed, but I imagine it will in the next couple rounds."
If you are a part of Assassins, it may even be difficult for you to leave your house. If you do, you have a very good chance of being hit, as players tend to be very sneaky when trying to get one another out.
"If people leave [their houses], they run the risk of getting out," McMichael said. "So I guess you could say people will stay home if they can. Besides work or sports, you can pretty much get hit if you leave so people may be hesitant to go out."
As fun as the game may be, some players are often caught cheating, being dishonest, or breaking the rules throughout the semester-long game.  This year, situations like this have only been brought up a few times throughout the course of the exciting game.
"Usually if there's a debate I can usually get the two teams to agree on something themselves," McMichael said. "If not, I'll try to ask any witnesses. If nothing can be agreed upon, I just have to say both people are out…"
The School Administration is not fond of Assassins, and tries to avoid the game as much as possible.
"I can understand admin for disliking the game because there is a risk and problems may arise," Kim said. "However, I feel as seniors we try our best to keep it amongst ourselves, and not involve any other parties into the game."
Of course, at the end of every competitive game, there's a winner (and a loser). Every player who entered the game, did so by paying 10 dollars in cash. So you can imagine what the prize is…
"Every player payed to join," McMichael said. "So there's a cash prize for the winners."
Monte Vista will continue its yearly tradition of Assassins, shooting for more participants each year.
"…it's tradition," Kim said. "In addition, it is just really something different and new. Overall it has been a really fun experience."