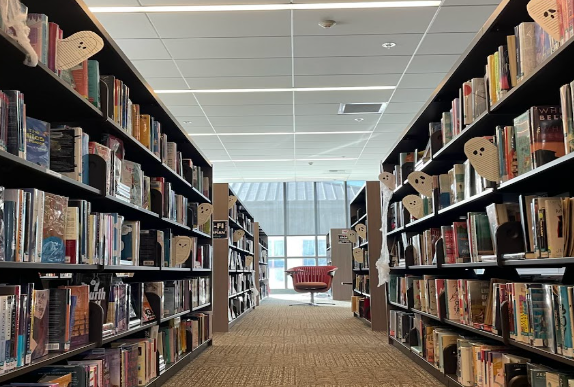 The library is home to the infamous trio One of Us is Lying as well as the popular series The Inheritance Games, but also the Library Advisory Committee. They have influenced the displays as well as planned activities for the library.
     The Library Advisory Committee was formed by Mrs. Xavier after the club fair. Most members are freshmen, with no officer positions decided yet. 
     When Xavier originally came to Monte Vista as a librarian, there were many nonfiction books. Now working to purchase more fiction novels, she consults a number of students who are interested in a specific genre.
     "Based on what we don't have in there and based on what they would want to see in [the library]… we give [book recommendations] to [Xavier], and [Xavier] purchases them," said Ruby Toombs, a senior at Monte Vista and a member of the Library Advisory Committee.
Story continues below advertisement
     The main goal of this committee is to make the library more student centered, which members are encouraged to promote.
     "[Committee members do] activities, publicity, and things that are kind of making [the Monte Vista library] a student-place," Xavier said. "I don't want it to be a library for Mrs. Xavier— I want it to be a library for the students."
     Committee members can choose to work at the front desk and check in books or shelve them. During the Library Advisory Committee's meetings, members are encouraged to plan activities for the library, which can include purchase recommendations, books of the week, and displays.
     "I like the ability to have a say in the library… and being able to just interact with the library in a deeper way," Toombs said.
     Mrs. Xavier encourages any student who is interested or really loves books to talk to her about joining.
     "[Non-committee students] can come by and they can pick out a time that they can learn a little or shadow someone who's been doing it a bit," Xavier said. "If they're interested in suggesting books to the library or having ideas for a little activity people could do, I'm open to ideas."
     The next time you swing by the library, you should fill out some book recommendations and talk to Mrs. Xavier about joining the Library Advisory Committee.