MV's very own student author
Before she could even write sophomore Paris Morris was busy making her own children's book series based off of her own life.
With the help and encouragement of her parents over the years, Morris has grown to love writing and has written five books in an eight book series. Her mother has assumed the role of editor while her father has been the publisher.
"My mom is a writer and she has always inspired me with the things she writes," Morris said.
While Paris's mother was an inspiration to her writing, her two twin sisters are the true reason for her books.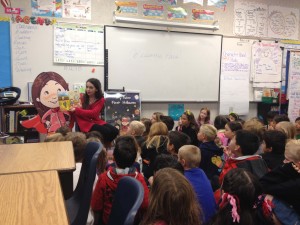 "I have two little sisters and when they were first born I didn't really know what to do as a big sister. I looked for books to tell me what to do, but I realized there weren't any. I came up with the idea to write my own to show other kids that it isn't hard to be a big sister."
The twins were born when Paris was 3 years old and the books she has written chronicle the transition from being an only child to having two little sisters.
The series includes travel books about major cities with titles such as "Paris goes to San Francisco and "Paris goes to Lake Tahoe". The other books are about holidays and everyday life as a big sister including titles such as "I'm Having Twins" and "My Twins are Coming Home".
Morris's books are for young children and are filled with colorful illustrations done by an illustrator in the Philippines.
Morris has enjoyed all steps of the writing process including sharing her books with young children who may be learning how to be big siblings as well.
"I went to a third grade classroom at Vista Grande after coming out with my Halloween book. I read the book to all the kids and they were so excited and so in awe. I was really excited that they liked me!" said Morris.
Above all, Morris loves the impact she is having on young children who avidly read her books and describe her as a role model. Morris's little sisters are now 11, but she plans to continue adding to the series. For more information on Monte Vista's own student author check out her website : www.myfriendparis.com or her facebook page: My Friend Paris.
Leave a Comment