From the hallways of Monte Vista to the halls of Congress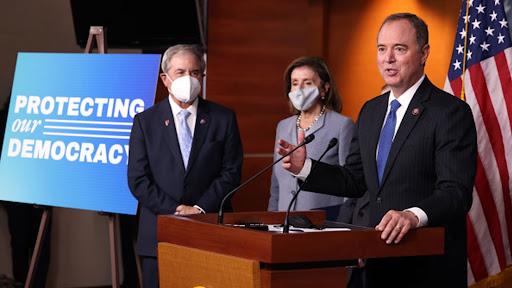 Today Adam Schiff roams the halls of Congress, but he got his political start nearly 2,802 miles away roaming the hallways of Monte Vista High School. 
When he was just 12 years old, Schiff, a Democrat representing California's 28th District, moved from Scottsdale, Arizona to Danville, California. Throughout his time at Monte Vista, Schiff dabbled in many different subjects. He studied Shakespearean plays and ignited his love for theater with Ms. Abbott. He explored the universe and motion through space and time in physics. He analyzed governments and economics in Mr. Morrison's Contemporary World Problems class. Schiff even played on the soccer team all four years of high school.
Among his academic pursuits, the activity that stood out to him, in particular, was speech and debate. 
Schiff competed in Original Oratory and Dramatic Interpretation: 10-minute performances that require strong writing, reason, and passionate delivery. 
In Dramatic Interpretation, he performed "Inherit the Wind" and "12 Angry Men," both pieces that would align with his future career.
"[12 Angry Men] was about a jury, so it was kind of fun to be several jurors," he said. "[The other] was about the Scopes' trial and that was fun, too." 
While in speech and debate, Schiff listened to recordings of great speakers like Robert Kennedy, Martin Luther King Jr., and Winston Churchill that inspired his own orations. 
"I just admire the way they use language and how beautiful their speeches were and how well-written they were," Schiff said. "To this day, when I'm working on a speech, I try to get the point across in a way that is elegant." 
This sentiment rang true when he delivered a graduation speech at his high school graduation ceremony in 1978. In doing so, Schiff inadvertently spread a rampant misconception about his early days. 
"Maybe people assume that since I was a graduation speaker, I was valedictorian," Schiff said. "I don't know whether it's from Wikipedia or somewhere else, but I was not [valedictorian]."
 He was salutatorian, edged out of the top spot all because of a B in Band. 
Although he was clearly excelling academically, Schiff didn't think his classmates knew of him in high school. 
"Apart from [people on] my soccer team or in my classes, I didn't think anyone really knew who I was," he said.
So no one was more surprised than Schiff when he was voted "Most Likely to Succeed" by his classmates. By many standards, he's lived up to the title.  
After graduating from Stanford with a degree in political science and attending Harvard Law School, Schiff embarked on a new chapter of his life. Inspired by friends running for office and the "noble pursuit" of public service, he ran for California State Assembly in May 1994.
Although he lost, Schiff continued campaigning and rallying. His efforts finally prevailed in 1996, when he was elected to represent the 21st District in the California State Senate. 
 At just 36 years old, he became the Senate's youngest member. After his first term came to an end, Schiff campaigned to become the Democratic nominee for the United States House of Representatives in California's 27th congressional district. On November 7th, 2000, he defeated Republican incumbent James E. Rogan. Ever since he's been reelected every two years from 2002 to 2020. 
Just six days after he started his 11th term in 2021, rioters attacked the U.S. Capitol. Schiff's suspicions about the nature of former President Donald Trump's influence were solidified. 
"I've been focused for the last several years on […] how fragile our democracy is right now and when [Nancy Pelosi] established a committee to investigate the attack on the Capitol and the continuing danger to our democracy, she asked me if I would serve on it," Schiff said. 
On July 1, 2021, Schiff along with seven others was sworn in to serve on the Select Committee to Investigate the January 6 Attack on the United States Capital. 
"I was honored to have the opportunity to do so because it would allow me to continue to do my work exposing the dangers to our institutions and coming up with proposals to protect our democracy going forward," he said.
While he's making strides politically, 44 years after Schiff graduated high school, he still finds time to stay in touch with high school friends.
"I mostly […] stay in touch with my soccer teammates and some others that I didn't play soccer with," he said.
One of those being National Aeronautics and Space Administration(NASA) astronaut Leroy Chiao, who graduated with Schiff in 1978. They not only stayed in contact on Earth but also in space.
"I sent an email to NASA and NASA uplifted it to the shuttle," Schiff said. "Leroy replied to my email from the shuttle, so we were emailing each other while he was in space and that was very cool."
Back on Earth, Schiff is focused on the upcoming November midterms. 
"We're less than 50 days away, so all my energy is really focused on my own campaign and the campaigns of my colleagues," he said. "I'm doing a lot of traveling around the country, helping them in tough races."
While awaiting the midterm results, Schiff found some time to offer Monte Vista students advice.
"My advice would be to pursue whatever you're interested in, whatever you're passionate about," he said. "I would follow your interests. In high school, I would take a very broad set of classes. Take classes and things that you don't think will have any relevance to your future job, but that you find interesting because the further you go in college and graduate school, the more of a specialist you have to become. High school and college are the years to be great generalists and to try things to see where your interests lie, so to the degree that you are given freedom in the classes you pick, I would go with the best teachers no matter what the subject is because they'll make it interesting. Find out what you really enjoy and then don't let anybody tell you that you can't do it."
Leave a Comment
About the Contributor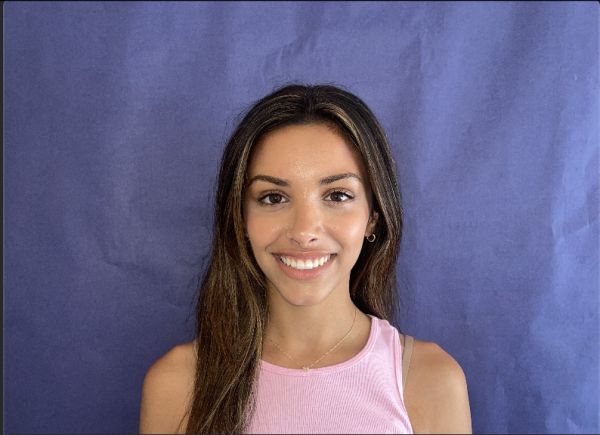 Olivia Brandeis, News Editor
Olivia Brandeis is a junior at Monte Vista. This is her second year in journalism and she will contribute...