Monte Vista Community Rallies to Help Former Teacher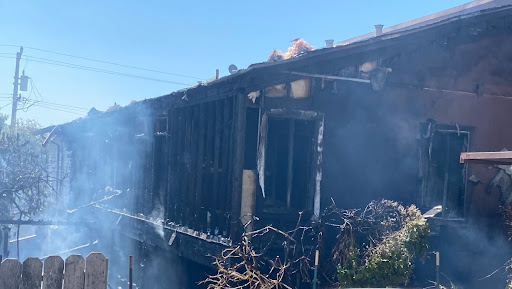 The week of September 5th was one for the record books. According to the National Weather Service, that week's scorching heat wave was the most severe in California's history. With temperatures in Danville ranged from 95 degrees to 113 degrees on Tuesday, September 6th. 
     San Ramon Valley Unified School District (SRVUSD) students were still required to attend school during the heatwave, but were encouraged to hydrate and stay in air conditioned hallways and classrooms throughout the school day. San Ramon Valley High School (SRVHS) even experienced a power outage, causing teachers to extend homework deadlines and due dates. 
     For most students and teachers, the blistering heat was an inconvenience, but for Jennie Drummond, it became a catastrophe.  
     September 7th started as a normal day for Ms. Drummond, who was an art and yearbook teacher at Monte Vista for eight years. That morning, she drove to San Ramon Valley High School, where she's starting her first year as a new art teacher, with her service dog, Shadow. Around lunch, she received a panicked call. It was her neighbor telling her the devastating news. 
     Between 12:30 P.M. and 1:00 P.M., her townhouse in Benicia burst into flames. While no one was injured and the dog she was petsitting was rescued, Ms. Drummond lost everything. Since buying the house in October 2020, Ms. Drummond had filled it with all of her most important belongings, including her plants, art, and record collection. The fire reduced all this to a heap of blackened wood and ashes. 
     Once she arrived to her neighborhood, Ms. Drummond learned more about the scope of the fire. Her house was among four affected by the blaze. Two homes were completely destroyed, including hers. The fire inspector strongly believes that the cause of the fire was the heat wave. The heat might have caused some type of spontaneous combustion in potentially flammable chemicals. In his words, it was the "perfect storm." 
     Weeks after the devastating incident, Ms. Drummond continues to rebuild and Monte Vista's community has found ways to help. A GoFundMe page, created to lessen some of the financial woes that the fire caused, was shared around the Monte Vista community and the Bay Area. Just two weeks after it was created, the page has reached more than $50,000 in donations, many coming from community members, who were touched by Ms. Drummond's enthusiastic and caring approach to teaching. 
     "I listened to you masterfully teach my daughter art over Zoom during Covid," Monte Vista parent Kirstin Fitch wrote. "You brought so much light and color to a dreary time. I've been through fire loss and the grief is real… your community is here to rally behind you. You're not alone!" 
     Many former Monte Vista students of Ms. Drummond have also expressed their sympathy and support.
     "It's so sad and I hope she was able to replace or salvage some of her things," junior Taylor Hanshaw said. "I'm happy Shadow was with her at school too, and not at the house."
     Along with monetary donations, many people have donated their time, food, furniture and even yarn for Ms. Drummond's hobby of crocheting. 
     "It's been incredibly humbling to realize how many people genuinely empathize with and
care about me and Shadow, whether they know us personally or not," Ms. Drummond said.
Leave a Comment