Asian-American assaults surge again a year into COVID-19
  As the COVID-19 pandemic continues, animosity towards the Asian-American Pacific Islander (AAPI) community continues to worsen. In recent months, crimes against the AAPI community have increased by 150 percent on average in major cities.
     Members of the AAPI community grow increasingly concerned about themselves and especially their older relatives.
     "We don't want our grandparents going out, and if they do, they're always accompanied by my mom and dad," said Joyce Tong, an East Asian junior at Monte Vista. "We live in fear. Whenever I walk [my dog], I can't go alone."  
      Even though a significant catalyst for these crimes has been the association of COVID-19 with China, people of all Asian ethnicities have been affected. Only 42.2% of people who reported experiencing hate to Stop AAPI Hate were Chinese.  
      "[This] speaks to the relative ignorance that people have toward general communities of color that we continue to paint with this broad brush," said AP US History teacher James Rossi. "Even though we claim to be a multicultural society, we don't respect culture very well. We claim we are this melting pot of a country, but within that melting pot, we don't acknowledge all the experiences, the backgrounds, the ethnicities. We just lash out and discriminate." 
     The model minority myth, which is the assumption that Asian-Americans are all academically gifted and an example of a minority group's social and economic success, may have contributed to the nation's perception of Asian-Americans.
     "Because of the model minority myth, we often disregard Asian racism because we're seen as this model for other minorities," said Kailene Apana, a junior from the Urban School of San Francisco interning at the Stop AAPI Hate youth campaign. "I know that there's a lot of racism in communities of color towards other communities of color." 
     The attacks have brought about controversy regarding race relations between minorities and an appropriate solution to reducing the frequency of race-related crimes. Daniel Dae Kim, a Korean-American actor, offered a $25,000 reward in exchange for information regarding the Black perpetrator of an assault in Oakland's Chinatown that led to the death of a 91-year-old Asian man. Kim received backlash online, along with arguments that justice shouldn't be at the expense of the Black community. 
     "We need to have solidarity [among] racial groups. That's really important in order to change the systems that are hurting all of us," Apana said.
     Dr. Russell Jeung, one of the founders of Stop AAPI Hate and professor in the Asian American Studies department at San Francisco State University, is optimistic. Dr. Jeung attended an Oakland rally on Feb. 13 to "support those who have been victimized and…build connections and bridges with other communities" and said that "what made it encouraging is that at least a third of the speakers were African-American and the audience was mostly Asian."
     Dr. Jeung also warns against using the term "hate crimes" too loosely. 
     "The danger of using 'hate crimes' is that it focuses the issue too much on crime enforcement, stiffer penalties, and more policing," Dr. Jeung said. "What we really need is more community safety, and having more patrols or more surveillance doesn't necessarily lead to a feeling of safety. It actually heightens your fear if you see people with guns." 
     Apana said that Stop AAPI Hate is helping to combat racism against Asians by advocating for  "restorative justice, mental health resources, anti-bullying training, ethnic studies…because those things are more helpful than punishment." 
     Though Asians of all ages have experienced hostility during the pandemic, the assault of AAPI seniors has caused greater alarm and prompted action in combating anti-AAPI hate.
     Katrina Ramos, a Bay Area resident, co-founded an organization for chaperoning seniors called Compassion in Oakland. "We plan on being around as long as we can be," Ramos said. "We hope to be around for the community so we can provide them with resources to keep them safe."
     As for a possible means of alleviating the anti-Asian hate, Ramos said "people of all backgrounds and races can show up for the Asian community and amplify our voices at this time. As an Asian community, we should show up for BLM or the Latino community, and likewise, they'll show up for us."
Leave a Comment
About the Contributor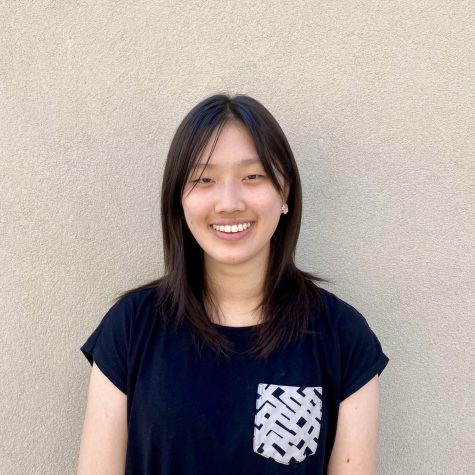 Zoe Qian, A&E Editor

Zoe Qian is a senior in her second year on the Stampede. She is the Arts and Entertainment editor and...