Is reading a fading hobby among teens?
     If you're a Monte Vista student, you've probably realized that our library was once the most desolate place in the school- or maybe you haven't, because you've never actually been there. 
     Even with Monte Vista's new librarian, Julie Garrahan, steadily increasing checkouts and bringing in a variety of new reads, our school still lacks teenagers that read for fun. 
    By the time students have reached high school, we've had our fair share of exposure to books, whether it's been through parents, friends, or teachers. Most of us can probably recall our favorite picture book our parents read to us before bedtime. Then some of us read kid's chapter books and then young adult stuff like The Hunger Games, Divergent, dystopias galore- and then adult fiction. But as teenagers grow up, more of them abandon books for other forms of entertainment — and the hobby is being virtually extinguished by the digital age.
     "When I tell people that I read a lot, they're like, 'I'm not into reading but I've seen the movie,'" sophomore Claire Phillips said. "…but have you read the book?"
     Movies are a great form of entertainment, and lots of people tend to choose them over books. But movies lack what books have — the ability to spark creativity. 
     "[Albert Einstein] challenged people to read one book a month for pleasure and said at the end of the year you will be so much more creative," librarian Julie Garrahan said. "Reading stimulates you to make your own pictures in your mind versus when you're playing a game or watching a movie, somebody else's imagination has created those pictures."
     Still, people exchange books for video games, movies, and social media, where you no longer have to imagine a scene from a novel. Instead, it's there three inches from your eyeballs, moving in HD perfection. Creativity is no longer needed. So it's not uncommon to find that teenagers find reading boring, hard, or just hate it altogether. 
     "I feel like there are a lot more things to do on our phone or computer- [we can] watch videos and play games that are so much more interesting to teenagers now versus picking up a book and reading it," sophomore Joselyn Li said. 
       But not all teenagers despise reading. Some find it has actually helped them in multiple areas.
     "If you have time, it's relaxing and it takes you away from a screen," Phillips said. "It's helped broaden my vocabulary, and [taught me] life lessons, of course." 
        Other students feel books are simply just hard to deal with. 
     "I dislike reading because I have a hard time focusing," sophomore Joyce Tong said. "I'll usually read a couple pages before I realize I didn't comprehend any of the information, meaning I have to go back and reread it." 
     It appears this isn't out of the ordinary. In a study performed by the American Psychological Association, under 20% of today's teenagers report reading books, magazines, and newspapers for fun. Yet over 80% claim they use social media every day.
     The written content found on social media, such as Instagram captions and tweets, tend to be short snippets of text that can be read in under 30 seconds. Teenagers make the time to stare at their phones for an average of 7 hours and 22 minutes per day, according to a survey from Common Sense Media- yet claim reading would be a waste of time. 
     "[Teens] don't read enough long text," Garrahan said. "They read quite a bit on their social media, but it's all very short and they don't have enough practice reading for a long time and with complex ideas."
     Garrahan argues that high schoolers aren't always prepared for college literary-wise, and when they're told to read hundreds of pages in a week, they'll have trouble. 
     "Soon [teens] are going to be asked to read for 3 hours at a time and not having that ability [and practice] could be detrimental to getting you where you want to go [during college]," Garrahan said. "To me, it's like practicing shooting baskets… it's the muscle memory that so during the game, you know what to do after all the practice."
     At Monte Vista, it's not hard to get that practice. Though Garrahan has only been at Monte Vista for several weeks, she's noticed the abundance of old-fashioned books in the library and is sending out for more modern novels, even taking student requests. With the new selection, it isn't at all hard to find something appealing. You just have to make the effort to look. 
     Most people enjoy stories — telling them or watching them in the form of movies, after all.  Garrahan believes that anyone can be a reader: one just must find the right story to get them started.
     "Almost all of us have that one book that makes us a reader," Garrahan said, using her son and his discovery of Tolkien's Lord of the Rings as an example. "Mine happened in fourth grade, but I've talked to some of the teachers [here] and they said that their book didn't happen until they were an adult. But when you find that book that then becomes your gateway to the world. And I think there's always that book- you just haven't found it yet."
Leave a Comment
About the Contributor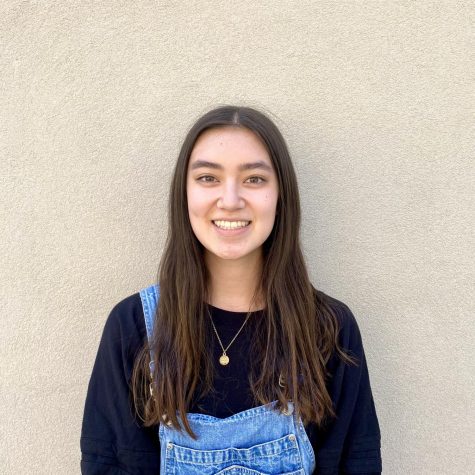 Macie Calvert, Editor-in-Chief
Macie Calvert is a senior in her third year of Journalism and the editor-in-chief of The Stampede this...