Donté Clark: A messenger of hope
  As he listened to students of the Black Student Union speak, a former poet realized that they all had a similar challenge — self-discovery.
     Starting this year, poet Donté Clark began visiting classes at Monte Vista every other week on Thursdays to discuss the challenges they face.
     "From what I'm hearing, it's a sense of belonging," Clark said. "There are a lot of issues regarding identity."
     For the past couple of years, Dr. Maisha Beasley and her brother CJ have been leading the Rising Black Scholars program at Monte Vista. When they and the district went separate ways last year, assistant principal Kenneth Khan did the unthinkable. Kahn decided to reach out to Clark on Instagram, asking if he was interested in working with Monte Vista, and while it seemed unlikely that someone with such a great reputation as Clark's would stop by, Clark did just that.
     "He came over last May, checked out some of the meetings, and had some great conversations with our executive directors," Kahn said.
     As of now, Clark currently has a contract with San Ramon Valley Unified School District (SRVUSD) for this school year, where he works with African American students, students of color, and Caucasian allies to discuss topics such as critical race theory, implicit bias, and stereotype threat.
     In fact, on Oct. 3, Clark held one of his biweekly meetings, discussing topics regarding the student body in Monte Vista. Sophomore Iziyah Robinson attended this meeting along with several other students.
     "Donté talked about the student body and how each group represents a different part of that body," Robinson said. "He also talked about types of toxicity that can spread throughout the body."
     Through these meetings, students are also allowed to bond and create relationships with one another.
     "I think there is a sense of community after each meeting," said senior Tana Zifodya, who also attends Clark's meetings. "I've established a lot of new friendships through our meetings."
     Clark prepares workshops and activities for the students, creating an environment of empathy where they can participate and get involved.
     "It takes each individual to make that decision," Clark said. "By providing different activities and topics, hopefully [students] can identify a talent that can facilitate with discovering themselves." 
     Clark was raised in Richmond, California, and since Monte Vista is located in a suburban landscape, students don't usually get the chance to hear from a perspective such as his. After Clark's documentary, Romeo is Bleeding, was released in 2015, multi-billionaire Russell Simmons bought the rights to Clark's film, demonstrating how impactful not only Clark's but also the city of Richmond's stories are to the world. Clark brings these stories to the students of Monte Vista in hopes of illustrating other perspectives. 
     "He brings a point of view that you don't hear very often," Robinson said. "He's very easy to connect with as well since we were all raised within the same area."
     With these meetings, Clark is not only guiding these students to discover their purpose but is also contributing to a much bigger cause, ensuring that students from all backgrounds feel safe and accepted at Monte Vista.
     In 2016, graffiti was written in the men's bathroom in the 900 building. The words "whites" and "colored" were written over the urinals, raising concerns about racial sensitivity within the school. As a result of the incident, Monte Vista held an assembly after, where several students and staff members shared their experiences regarding racial slurs and insults.
      "At our high school, we have had a number of reports that go across the board [where] people feel unheard and unwelcomed," Kahn said. "We must make everyone feel safe, feel accepted, feel celebrated. When we're at our lows, that's when we have to be at their highs, to be that morale boost for them."
     While Monte Vista is committed to providing a safe environment, with Clark's help, students can feel a little more comfortable knowing that someone who's had similar experiences to them is present and supporting them through their high school career. With his reputation, Clark is someone that these students can look up to, giving them hope that they can also make it as he has. 
     "I see him as a leader," Robinson said.
     Clark is not the only one at Monte Vista who hopes to inspire students that they can make it and become successful. Kahn also hopes to do this as well through his position within the school.
     "They [students] can see that persons like myself are in roles of power and authority, are well educated, and are able-bodied," Kahn said. "That will give them a sense of connection and validation that anyone of any background can be anything given the appropriate support and opportunities."
     Not only does Clark inspire them to go above and beyond, but he is also someone that these students can lean on whenever they are going through difficult times.
     "He's someone I can go to when I need an outlet," Zifodya said.
     Now that Clark, who is also Richmond's Poet Laureate, is partnering with Monte Vista and SRVUSD, Kahn is excited to see the many opportunities that await us in the future. 
     "Mr. Clark is an exceptional example given the multitude of challenges that he faced, he has continued to thrive and has found ways to make it," Kahn said. "There's a multitude of opportunities and possibilities where we can work with him [at our school]."
     Even though Clark's contract is only for this school year, Clark hopes to continue what he's started at Monte Vista, being both a shoulder and a guide for students who are searching for their purpose.
     "As long as I am of service, I try to be there as much as possible," Clark said.
     Monte Vista has two goals for this school year. According to Kahn, by May of 2020, the school hopes the percentage of students who identify as two or more races scoring proficient or higher in reading will increase from 62% to 80% by the end of the school year as measured by the CAASPP Assessment.
     "32% of our African American student population in our district has been identified as college and career ready, where nearly 80% of all other student populations are," Kahn said.
     Also, by May of 2020, Monte Vista hopes that the percentage of students who agree or strongly agree that they have identified a caring adult on campus will increase from 67% to 80%. There's a lot of work to be done at Monte Vista, but with the help of Clark, the administration is hopeful that these small steps will improve not only our school but also our community.
     "I like to think that we are all good people, we're all a work in progress, we all have a lot to learn," Kahn said. 
Leave a Comment
About the Contributor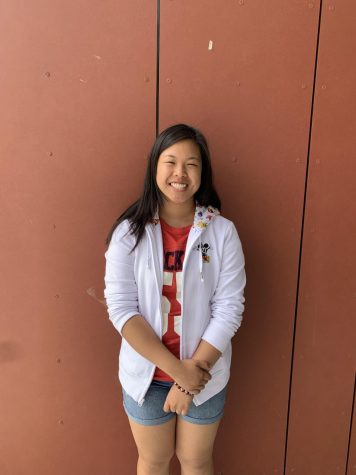 Lauryn Leong, A&E Editor
Lauryn Leong is a senior and a second-year journalist for The Stampede. She is the A&E editor for...