The "multi-talented" Tik Tok boys steal the hearts of girls across America
 Do you want to become famous but have no talent? If you are an attractive, white teenage male, then Tik Tok is the place for you.
     Tik Tok, an app primarily used by these "talented" teenagers, allows users to create short video clips on "comedy," fashion, and challenges. They have many skills to their advantage ranging from licking their lips to clenching their jaw. 
     "They have no talent except humping the air," freshman Khushi Kunjoor said.
      At the start of summer 2019, three girls and 20 boys became wildly famous with as much as five million followers on Tik Tok. They joined together to go on "tour" – the Lights Out Tour – across America and meet their fans. The tickets ranged from $60 to $100 depending on whether you wanted to meet them and "jump into their arms" or if you would rather eat dinner with them in a cramped building.  
Out of these 20 boys, 16 of them are white. Their unwarranted bias and the fact that these 16 white boys are the most followed make it appear as if it is acceptable to lack inclusivity.
     The meetups take place in a small, crowded building that has different backdrops. Strangely, they do not hire any professional photographers for the event, even though it is primarily based on photography. 
     "I honestly think that [the tour] is a waste of money," Kunjoor said.
     Some teenage girls disagree with the fact that these meetups are dimwitted. Maybe the rest of the logical world has never felt the happiness that it is to hug a white boy. Perhaps their intentions are positive, and they really do care about their fan's well-being and not about the revenue. 
     "Yes, I support them… they're famous and pretty hot," freshman Jill Vorhauer said.
     Not only do these boys exploit their fans, but they also set unrealistic expectations on youth relationships, and spread superficial values. To put it into perspective, a person would have to pay an average of $80 to meet a group of boys that not only lack diversity but talent as well.
     Anthony Reeves, a member of the tour, is 17 years old and makes videos on Tik Tok of him grinding, biting his lips ferociously, and several other things with sexually suggestive actions that he does to make himself look "attractive." The audience of these boys are underage girls. This is inappropriate, and no girl of any age should admire them. 
     "They have a bad influence on girls, and it is especially weird that they are sexualizing themselves," Kunjoor said.
     Their fame is due to their looks, and I'm sure no sane person would support them solely because of their "unique" and "heartfelt" messages to their fans telling them to: "Love yourself and focus on the positive things in life." 
     No, I do not know any of these boys personally. Nor do I know what beliefs they uphold or what their favorite breakfast food is. But what should be apparent for everyone is that a good role model is one that places values in matters that do more than skim the surface. Yes, it's vital to love yourself and be happy and believe in unicorns, but lip-syncing to popular audios on a social media app does not count as practicing what you preach.
Leave a Comment
About the Contributor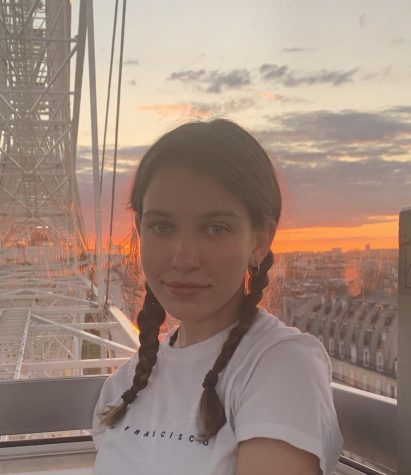 Marie Shvakel, Op/Ed Editor
Marie Shvakel is a 16-year-old junior. This is Marie's third year writing for The Stampede. She enjoys...