Mr., Mrs., or Coach?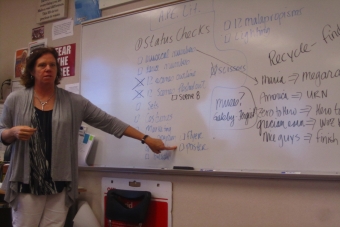 In the various sports teams across campus, many are accompanied by a complicated decision of "Hey Coach!" or "Excuse me, Mrs. Bellini."
Teachers from all subject areas participate in coaching sports teams of all shapes and sizes.  The coaches on campus include, Mr. Bergman a PE teacher and varsity football coach,  Mr. Rogers the varsity water polo coach, Mr. Allen coaches golf and is a math teacher, Mrs. Utchen, an English teacher and women's varsity volleyball coach, Mr. Philapil, a freshman football coach and math teacher, Mrs. Henehan coaches cheer and pom and is also a history teacher, Mr. Jones is coaches varsity mens basketball and is also a history teacher, and Ms. Drummond, an art teacher, coaches the throw events for the track and field team.
But what is it really like to switch from formal to first name basis in the same day?  What is it like to have to focus on not only their students' success in academics, but athletics as well?
Mr. Bergman, PE teacher and Football coach talks about putting in lots of extra work for his sports program.
"You know, one time we did some calculations and I would say on average we would probably put in about twenty five to thirty five more hours per week," Bergman said.  "When you consider that as coaches we are here all day Saturday and half a day on Sunday, breaking down film and all those things.  And after school for about three hours each day, that takes us to about twenty five hours."'
Many other teachers stated that they spend at least 2-3 extra hours a day for practice and even more on planning and workouts, sometimes on weekends.
Sometimes this can get in the way of both personal and teaching scheduling, but some coaches are lucky enough to have a specified schedule that tailors to their coaching.  Mr. Bergman has a football weight class 6th period that takes some time out of what would be done at practice.  Mrs. Utchen, English teacher and varsity volleyball coach also has a special schedule.
"Our administration and English department are really supportive of teacher/coaches because it's so great to have them on campus," Utchen said.  "So, my schedule is carefully determined so that I can be in the gym to set up at the end of 6th period, and that I am not overloaded with homework.   It is too hard to teach two AP classes and teach full time and coach a varsity sport, so my schedule was great this year."
'But what do I call them?' you might ask.
Bergman, says that he does not mind whether someone calls him "Coach" or refers to him with the title Mr.  As long as it is one of the two, he is fine with it.  Art teacher, Ms. Drummond has a similar policy with names.
"Students don't necessarily treat me any differently, although some call me "Coach" instead of "Ms. Drummond" now, which is totally fine," Drummond said.
However, Utchen requires a more formal addressing in her classroom.
"In my classroom, I'm Mrs. (or Ms.) Utchen.  In the gym, my players can call me Coach, Coach J.J., or just J.J," Utchen said.  "If I see my players in the hallways, it's Coach or Mrs. Utchen."
Some might ask, 'does it impact their salary?'  To answer that question, yes it does but not significantly.  Every teacher spoken to said that they do not do it for the money, but for the sheer joy of coaching.
"Coaches get paid…less than $1.00  [per hour]," Utchen said.  "Yet  I am richly paid in thank you notes, total cooperation and appreciation from my team, and in gratitude from my parents."
Bergman agrees.
"You know your coach will receive a very minimal amount, none of us do it for that, we all do it because we like to coach," Bergman said.  "And if we did it for money I don't know if anyone would be doing it that's for sure."
So let's thank our hard working teachers and coaches for all they do.