Marching band….do they get enough recognition?
The thunderous noises of drumline echos in students' ears as they leave the rallies. The students go wild as various instruments accompany the cheerleaders in the rouser. But do we really know how much effort these marching band students put forth to make rallies and football games a memorable one?
Ed Cloyd, the director of marching band since 2007, has been successful over the years along with his students. Mr. Cloyd has a lot of experience as he played in marching band in high school, continues to play several instruments, and has conducted at other high schools prior to teaching at Monte Vista.
"I play the saxophone, percussion, clarinet, and the piano," Mr. Cloyd said. "I was a director over at Foothill High School in Pleasanton for 10 years before coming here."
There is no tryout to to join marching band, but there are auditions for drumline since there are limited spots. The band consists of about 70 students who play various instruments such as the sousaphone, trombone, and clarinet.
Many students in the band started playing when they were young and have continued their passion for music, such as sophomore, Brooke Blackman who is in drumline.
"My parents never played, but drums have always just fascinated me ever since I was in 6th grade," Blackman said. "I was excited to be apart of the marching band here at Monte Vista when I became a freshman."
The students aren't the only ones with a love for music. Mr. Cloyd has always had a strong interest in it which is why he became a band teacher.
"I've always had a passion for music," Mr. Cloyd said. "My sister joined marching band two years ahead of me and when I started doing it, I really liked it. I also had a really good middle school teacher which made band a lot of fun."
Monte Vista rallies and football games aren't the only places that the marching band takes part in. With about 4 competitions each year, the band spends countless hours practicing and preparing.
"A competition day usually starts with an early morning rehearsal that last for about 2 to 3 hours," Blackman said. "Then we travel to another school to compete. We wait until 9:30pm to receive awards and find out how we did in that competition."
Many students in marching band are usually exhausted by the end of competition day, but winning always makes everyone happy to know that all their hard work was worth it such as sophomore Katie Munger.
"I like the competitions because I get to hang out with fun people all day and it's rewarding to go out on the field and play what we have been working so hard on," Munger said.
Some don't realize how much time and commitment it takes to be apart of it. Beside the three hour practices, three days a week or sometimes more, a majority of the students in marching band are also in one of the instrumental music classes that Monte Vista has to offer such as wind ensemble and jazz band. This consumes most of their time as they practice everyday to perfect their music in order to please the audiences in the annual winter and spring concerts.
Mr. Cloyd sees how hard all his students work and is always pleased with the performances that they produce, but most of his students and himself agree that they don't get as much recognition as they deserve.
"I feel like for the amount of hours that the kids put in, other students don't realize how much work is put in," Mr. Cloyd said. "We're almost out there as much as the football team is."
With many students playing spending most of their days together in marching band, they have created a special bond between themselves and their peers.
    "A lot of people are very close and friendly with each other," Munger said. "We all spend so much time together and I've made some of my closest friends through marching band."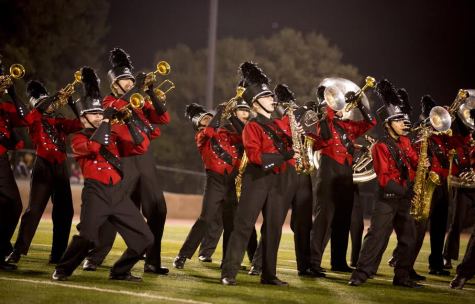 Leave a Comment