Have you been asked?
We all see the flowers and colorful posters with creative slogans cluttering the desks and hallways, but what does it mean?
It means homecoming. It's that time of the year again, and students are preparing almost a month ahead of time with roses,posters,and items such as decorated baked goods.
Girls walk into their classes with rosy cheeks and arms loaded down with the evidence.
Junior Samantha Wankett was asked with flowers and a clever poster outside the spanish classroom she shares with her date.
"My close friend Dane Brear asked me with a poster that said 'Sam, vas a hoco conmigo?'" Wankett said.
Students at Monte Vista are so creative, there's an abundance of ways to be asked or ask someone. A lot of times, students bring along props to correspond with their posters.
Junior Aniya Gill was asked by a friend who popped the question with a poster that said, "Would you bear to go to homecoming with me?" As a prop he brought her the forever loved giant Teddy Bear.
There's an endless array of clever ways to get asked to homecoming. Aside from food, flowers, and stuffed animals, there are things such as funny puns regarding someone's name.
Junior Danick Martin asked fellow classmate Alexa Weis with a colorful sign which read, "It would be a weis idea to go to hoco with me".  Everyone loves a good laugh.
However, some students prefer a more personal, romantic touch.
Junior Blake Nicholas asked Kyra Sakamoto with a beautiful display of candles arranged in letters to correspond with his poster saying, "Kyra, will you light up my homecoming?"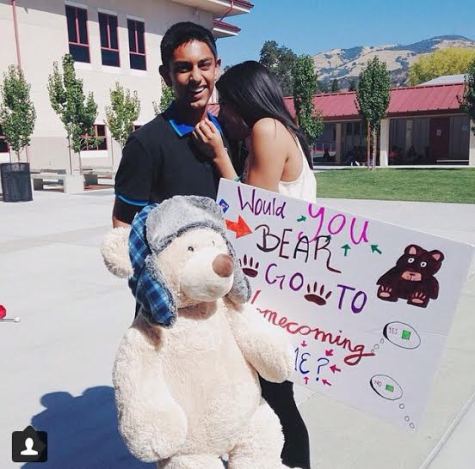 Only few of many, this gives you an idea of the effort and thought students put into asking that special someone to homecoming. Monte Vista will make sure it's worth it.
Leave a Comment