Internet Famous
We no longer consume media. Media consumes us.
According to the Washington Post, American teenagers spend more than 7 ½ hours a day consuming a variety of media, including social media. Although social media may have its negative side effects, such as a lack of privacy and cyber-bullying, its infiltration into our lifestyles is inevitable.
The following MV students have mastered the art of riding the social media wave, and in the process have gained a bunch of followers. Well, at least more than you have. Here are a few ways YOU can consume media responsibly:
Fangirl/boy over your faves!
Junior Gina Matteo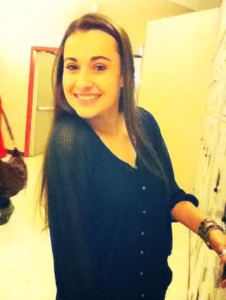 Instagram username: stalkingwatson
Follower count: 7,054
Three words to describe my social network: "Fandom, connecting, and Emma Watson"
My Motivation: "I like to do this because I want to keep Harry Potter alive! I have a lot of stories to share about Harry Potter, because I have met the cast. [Emma Watson] is an inspirational person, and [Hermione Granger] is the best character ever."
My Rules for Managing a Fandom Account: "First, you have to post at least one to two photos a day. That's the maximum. Second, you need to post really high quality photos. Go on We Heart It; if it's all pixelated, no one's going to like that. Third, you need to have a style, like, the pictures [need to] have a flow. Finally, you need a catchy name. You can't have a name on Instagram, like, "harry_potter_3_2", then people aren't going to search for you. You need a consistent name. Also, do shout-outs. And don't do spams. Spams are bad."
Fun Fact: "Don't follow me if you're from Monte Vista. I will block you." (She is totes JK!)
Look at stuff that makes you happy!
Senior Gentry Higgins
Pinterest username: gentry787
Follower count: 1,351
Three words to describe my social network: "Therapeutic, calming, and fun"
My Motivation: "[I got into Pinterest] because I have no life! It's just fun; I like to see the different clothes and pretty pictures. I have a 'Quotes and Reminders' board and a 'Beautiful Mind' board. A lot of the things on [my Pinterest] are inspirational."
How I got here: "The reason I think I have so many followers is because I take a lot of stuff from Tumblr and then put it on Pinterest, where the people haven't seen it yet.
I [also] have a strategy. The key to Pinterest is having a style, and then going with that. So, on my 'Style' board, people can expect to find preppy stuff. They can expect me to post on my 'Cheer' board, and I have a lot of followers on that board because not a lot of people post about Cheer. Consistency is key."
Social media has a bad rep: "It can [actually] lead to a greater good [because] it is a really different way of communicating with people you would have otherwise never met. It's a good way of connecting with people that you [share] the same interests with."
Get your face out there!
Senior Zac Kennedy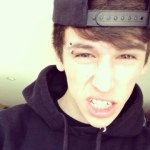 Instagram username: zackennedy
Follower count: 51,903
Three words to describe my social network: "Me, Myself, and I" (He posts a lot of selfies.)
How I got my 50K: "I've gotten most of my followers through popular page and shout-outs."
My motivation: "To get somewhere. Get my name out. Get known. My friends and I have a clothing line we want to start, and [my Instagram] should help with advertising. [I like] fashion."
How you can get popular on social media sites: "Be yourself and do you."
Share your art
Sophomore Sophie Myers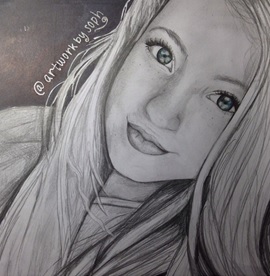 Instagram username: artworkbysoph
Follower count: 1,213
Three words to describe my social network: "Simple, drawing, and painting"
My Motivation: "[My dad] wanted me to start sharing my artwork and possibly start selling it. I thought it was a good way to let other people see my artwork. I enjoy being able to put all of [it] into one place, and then look back on how I've improved. I want to go into art in the future."
How I got here: "I draw people on Instagram, then tag them, and if someone knows the person I tagged, they'll usually follow me."
Express yourself
Junior Isaiah David-Kim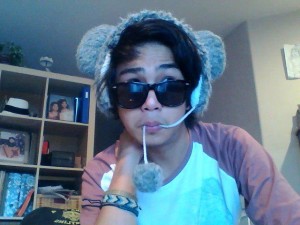 Tumblr username: Like most people on Tumblr, Isaiah would rather not give his URL out to the school newspaper. Forget about asking for the promo!
Follower count: 10,013
Three words to describe my social network: "Fun, me, and community"
Why Tumblr: "I get to share stuff about myself, and [I get to know] about other people's stories and how they feel. [Blogging] is about relating to other people. I used to like to go on and look at funny pictures. But actually commenting on things, and expressing [my] feelings on the site, helped motivate me to get more involved."
How I got my 10K: "You have to stop looking at your followers as numbers. Followers are just individual people themselves. So, you have to recognize that they're people, too. You can get more followers if you relate to them."
Fun Fact:  "Once, I had this one follower send me a skateboard, just because I needed a skateboard. It was pretty cool."
Help spread a positive message
Junior Maddie England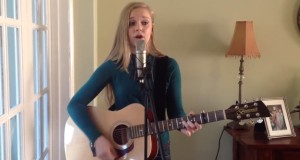 Youtube username: Maddie Rose
Instagram username: themaddierose
Follower count: 1,368
Tumblr username: budding-rosies
Three words to describe my social network: Creative, Unique, and Passionate
How I got here: "[I gained attention] on Instagram and Youtube because I have a song on iTunes. For a while I wanted to be a professional singer, but then I kind of let down that dream, because it was not very ideal. It's a hard industry."
My motivation: "I've helped a lot of people when I talk about bullying, so I mainly use [my Youtube channel] to give support to people that need it, but I still [use it] for singing, as well. My friend and I started the Bully Club at MV, and now I'm one of the officers. Bullying has influenced me to help others not feel the way that I've ever felt, because it's not right to feel like you're always a victim. I think that especially on social media, you need to be careful with what you say."
Piece of Advice: "Do things on social media that will boost [your] confidence."
Show off your talent
Freshman Ellise Gitas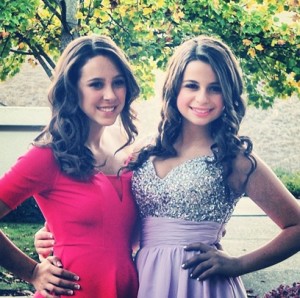 Youtube: Ellise Gitas
Highest number of views on a video: 2,080
Vine: Ellise Gitas
Follower count: 491
Instagram: liseeeyy
Follower count: 1,046
Three words to describe my social network: "Independent, passionate, and casual"
My inspiration: "I've always wanted to sing, and I still want to be a professional singer. Kelly Clarkson's an inspiration, and so is Ariana Grande because she's made it so far in such a short amount of time."
How I got here: "I was on X-Factor, and I made it to the live audition. I got Yeses from all of the celebrity judges, but then they had a budget cut, so they had to take out some contestants. But they still ended up putting my 'Yes! I made it!' interview video up on Youtube, so that gave me more views on my channel. I only have a few views now, but I'm trying to post more because I just got a cool camera."
Piece of Advice: "The great thing about social media is that it's so easy to connect your Twitter, your Tumblr, your Youtube, and everything together, and then you can just promote yourself throughout all of those websites. SoundCloud is great for getting yourself out there."
Fun Facts: "I'm in Beauty Shop and Trebs. My favorite genres of music are R&B and Pop."