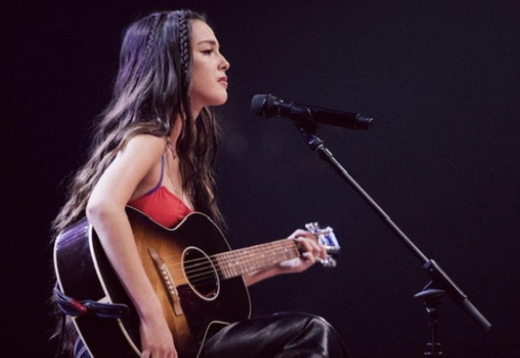 Teenage girls all over the world are anxiously sitting at their computers and waiting in anticipation for Olivia Rodrigo tickets to go on sale. But when Ticketmaster finally loads, her show is already sold out.
     Rodrigo recently released her new album Guts, which has quickly gained popularity. Many of the songs have reached the top ten of Billboard Hot 100, and the album itself is in the top ten of US Albums Top 100. Rodrigo's album includes a variety of ballads and pop-punk songs that highlight themes of relationships, insecurities, and the pressures of being a teenager.
     In an interview with Apple Music, Rodrigo said that "a lot of [Guts] is about the confusion that comes with becoming a young adult and figuring out your place in this world."
    Rodrigo's audience can relate to the theme of Guts. Her rapid success is partly due to the fact that her album appeals to her large fan base, which consists mostly of teenage girls.
Story continues below advertisement
     "I connect her lyrics:  'I try to be tough, but I wanna scream. How could anybody do the things you did so easily?' to my past friendships," said Jackie Rogers, a sophomore at Monte Vista. "[Rodrigo is] young, so she understands teenagers and [our emotions]." 
     Rodrigo is currently only twenty years old, and she wrote many of the songs on her Guts album when she was nineteen. She started gaining recognition for her singing-songwriting talents on High School Musical: The Musical: The Series, and her music career skyrocketed when she was only eighteen years old and released her first album Sour. 
     Although her youth makes her more relatable, it has also caused her to receive more criticism from the public. Critics question whether popular artists who start their careers at a young age deserve their success. 
     "I feel like whenever someone who's younger [becomes successful], people [assume] that they don't really work as hard," said Megan Wong, a sophomore at Monte Vista. "I don't think people understand teenage girl [angst] and how many girls actually go through what [Rodrigo] went through, so they say she's just overrated." 
     Despite the negative feedback, Rodrigo continues to release music and write genuine, raw lyrics that inspire teenage girls, including me. Whenever I'm stressed about a relationship/friendship or feel insecure about myself, I write a song about it. The theme of my songs are similar to Rodrigo's, and I realize that even someone as successful as her still struggles with relationships and self image like so many of us do.          
     "Rodrigo's so relatable and there's meaning behind her lyrics," Rogers said. "I feel like she'll [maintain] her popularity."
     Rodrigo's music will have longevity because she will continue to represent generations of teenage girls. With each album that Rodrigo releases, she reminds her audience that they are not alone in their negative experiences.