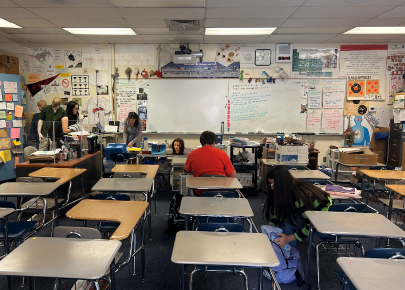 Who doesn't love a "whodunnit"? Murder mystery movies have entered a renaissance in recent years, as the success of films like Murder on the Orient Express (2017), Knives Out (2019), and even Adam Sandler's Murder Mystery (2019) draw audiences into the thrilling worlds of betrayal and bloodshed we see on screen. Besides murder mysteries, TV programs like CSI and Forensic Files have pulled viewers into inexplicable criminal plots for the past three decades.
     These programs and movies, of course, are made to entertain. Although mystery movies are enjoyable to watch, film detectives' techniques to catch a murderer are significantly different than the techniques used by professional investigators in real life. Yet, due to the pervasiveness of these murder mystery media sources, many viewers now conflate the reality of forensics with the on-screen version. 
     This mistake has led to an alleged phenomenon known as the "CSI effect." According to researchers, the rising media sources make juries and criminals believe unrealistic expectations about the different forensics processes. MV Forensics teacher Tracy Gilcrist finds that the CSI effect can often lead to a student's disappointment when learning about the difficulty to solve a crime. While on screen, it might take 30 minutes to find the criminal from a set of fingerprints, in real life it can take days, months, or sometimes decades.  
     "The two big things [media gets wrong] are how long it takes to analyze the evidence and that the evidence is not necessarily always 100% accurate to the suspect," Gilcrist said. In TV shows and films, police officers may only need a set of fingerprints to definitively find their suspect. But in the real world, fingerprints may only create a list of suspects with similar DNA matches. After that, detectives and police must turn to looking into the suspects, finding their alibis, and trying to reach a conclusion about who committed the crime.
Story continues below advertisement
     However, as Gilcrist mentioned, it's rare that someone's DNA matches up exactly with samples found at a crime scene. Sometimes, you can have multiple examples of DNA all belonging to one person, but if you don't know who that person is, it's extremely difficult to solve the crime. Gilcrist explained this is why some crimes may be solved decades after the fact, as DNA technology advances and databases grow with more sources to look into. In her opinion, Gilcrist said that a great part of the Forensics electives is that it helps students grow past the CSI effect.
     "I think my students will be a much better juror than the average person," Gilcrist said. "Other people just take bits and pieces out of TV and put it together and they don't really know anything. My students will be able to say 'no, that's not right.'"
    In the first year of Forensics, students learn how to document a crime scene and analyze evidence like, hair fibers, finger prints, and blood spatter. As part of the class, they'll even create their own blood crime scene using what they've learned. In Gilcrist's words, students are trained on par with police officers when analyzing crime scene evidence. If students decide to take Forensics a second year, the class begins to focus on criminal justice. Students learn how the court system functions and the different roles organizations play within the system. 
     Forensics is a complex, analytical subject — it makes sense how movies and TV shows don't feature it correctly all the time. However, even if the detectives of fiction are superhuman compared to the investigators of reality, the entertainment they provide allows us to feel like we can solve any mystery that comes our way.