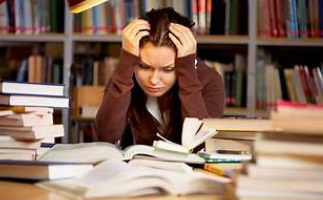 With the school year starting so does academic stress and difficulty in school. Many students deal with this, and it has become a growing problem in education and their learning inside the classroom. 
     How does stress occur and is it a real thing happening inside high school? To answer that question,  yes, it is a real problem. With that, many things can contribute to stress at school. This would consist of upcoming tests, too much homework, heavy workload, lack of organization, or even problems outside of school. Knowing the reasons for stress, one now needs to figure out solutions to maintain it. Students can do this by attacking all the different angles that are causing the problem. 
     First off they can understand what makes them stressed and the reasoning behind it. After that, they can find productive and smart strategies to help keep the school stress in control. This can be done by being organized, having a planner or calendar to keep them on task and taking things one at a time and not overdoing themselves. If this somehow doesn't work out and you're having some trouble there is one place here at Monte Vista that can help you with that, and that is the Wellness Center.
    Here at Monte Vista stress and mental health is strongly taken account of and there are resources provided to help deal with it One of the ways this is dealt with is the wellness center that is located here at Monte Vista. The wellness center provides support and help for any students in need. One of these needs may be stress from school work or even something going on outside of school. Whatever it is, the wellness center will help you no matter what.
Story continues below advertisement
    Another tool provided is the 504 plan. The plan is a blueprint for the school that supports students with disabilities and removes learning barriers. Some of these learning barriers that are removed are anxiety and stress levels during tests. If you are someone who experiences large amounts of stress and anxiety during testing, you can possibly get a 504 plan to help with it. This later on would allow you to have extra time when taking tests.
     "I believe Monte Vista is doing a good job with helping kids manage their stress and I've seen how helpful 504 plans are for me and my friends," said Anthony Ng, a junior at Monte Vista.
     Overall Monte Vista is a changing school that wishes to provide the best tools and equipment to better help with the difficulty and stress that high school holds.