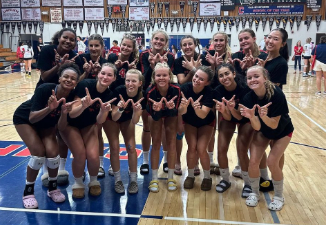 The 2022-2023 season for Monte Vistas women's Volleyball program was one to remember. Defeating San Ramon Valley High School in straight sets, Monte Vista was crowned EBAL (East Bay Athletic League) champion. This season, the women's volleyball team looks to emulate last season by defending their title.  
    "Winning EBAL was really exciting last year," said Abby Krause, senior at Monte Vista and member of the varsity team that won EBAL last year. "It made me feel really proud of our team and how hard we had worked." 
    In addition to the success of winning EBAL last year, the players also had their own individual successes. Two players from the graduating class of seniors committed to play volleyball at a collegiate level. 
     This season, the women's team got off to a flying start, beating both Livermore and Granada to go 2-0. Even though many seniors graduated from the league winning team of last year, new faces on the team are excited to try and achieve the same result this year. 
Story continues below advertisement
     "I'm so proud to be a part of this amazing squad and I feel like our team has been doing really good," said Mia Shadic, junior at Monte Vista and first year varsity player. "Despite suffering some serious injuries we have been very persistent and we'll have the opportunity to play even better in NCS."
     With the team garnering so much hard worked success, the whole school is behind them to show support.
     "My friends are on the team and they are really amazing so I try to support them when I can," said Aditya 'Siddarth' Namburi, an avid fan who has been to nearly every game this season. "More people should come because it would bring the energy up in the gym."
     The team picked up a huge win on senior night as they beat cross town rivals San Ramon Valley 3-2. As the season progresses into playoffs, the women's volleyball team remains in high aspirations of what to come.