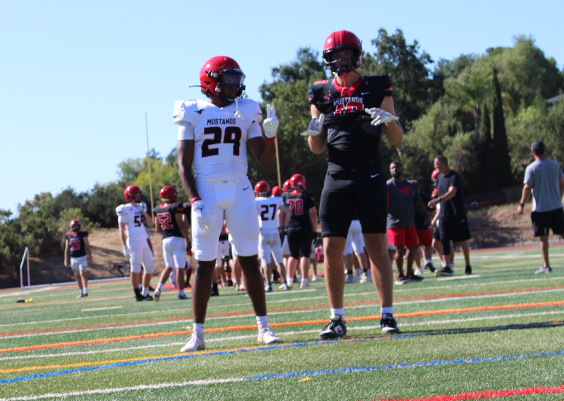 Here at Monte Vista, football is an integral part of life on campus. For over fifty years, football has been at the forefront of Mustang athletics. It has produced both NFL and Division 1 talent from players such as Jake Haener and Super Bowl champion Zach Eartz. However, as of late, Monte Vista has yet to find another big name. Star athletes for the Mustangs have come and gone, but a new era of stars are upon them, but not how you would expect.
     Recently, Monte Vista has become home to some of the top talent in the Bay Area. Many football players have transferred to Monte Vista in order to showcase their talents in red and black. Juniors-Kellan Ford and Julian McMahan and sophomore Dakota Dickson are the newest additions to the team. All three of these student athletes are competing at the highest level on the field, and have successes to back this up. Star running back Julian McMahan boasts seven offers to play football at Division 1 programs, including top academic and athletic schools such as the University of Washington and Cal Berkely. 
     "Monte Vista is a great school, with great education," said McMahan. "Football is a pretty big part of the culture here and we play in one of the most competitive leagues in California so the exposure is very beneficial."
     Another player who transferred last season was Kellan Ford, a junior tight end who came from rival school San Ramon Valley. Ford cited that his reason for moving from SRV is for better academics. Ford has transitioned to Monte Vista smoothly becoming one of NorCal's top tight end prospects. Ford currently has 4 offers with his most notable being The University of Washington. Ford is ready to keep showing the competition to believe the hype. 
Story continues below advertisement
"Seeing schools I grew up watching on TV comes full circle." Ford said. "I know I just got to stay focused."
     In addition to Ford and McMahan, Monte Vista added another transfer, this time an offensive lineman. Dakota Dickson, a 6'4 Sophomore is one of the biggest lineman in all of Northern California. Dickson spent last season  at Bishop O'Dowd and decided it was best to make the move to the other side of the tunnel by enrolling at Monte Vista. Dickson is one the sack leaders in EBAL has offers from UC Berkeley and San Jose State. 
     Monte Vista's high academics and athletics are making it the place to be for football players. As the season wraps up with the seniors graduating at the end of the season, Monte Vista will be in good hands. With Ford and McMahan here for another year and Dickson staying for 2 the "Stang  Gang" will be a forced to be reckoned with for years to come.