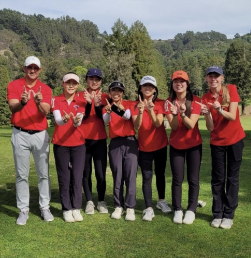 The Monte Vista High School women's varsity golf team has finished strong in their 2023-24 season with 13 wins and no losses, now battling it out in the North Coast Section (NCS) championships. Proud of their performance during the regular season, the team hopes to make it far during playoffs. 
      "We're doing pretty good," said Monte Vista freshman and golfer Maddy Bui. "We've got off to a good start and kind of just kept it rolling."
       In a typical match, the teams play in three groups, with two members from each team in every group. At the end of the game, the points from all the groups are totaled and the team with the lowest amount wins. This season, the team, with their skilled players, had a strong lineup with six strong varsity players. During playoffs, the top three teams from the East Bay Athletic League (EBAL) playoffs will advance to the NCS, where the top three out of twenty teams will advance to Norcal, then finally, state championships. 
     Last year, the team went undefeated with an overall record of 18-0 and made it to states, but didn't end up placing. 
Story continues below advertisement
     Now, as the team goes on to the playoffs, they hope to keep improving, winning, and to repeat the success they had last year. On October 16 the team won EBAL and now head to NCS, where they are on track to do well. 
     The team credits much of their success to their hard work and dedication. The players practice everyday, trying their best to live up to the success of last year and keep their win streak alive. The team has many strong and experienced players, all eager to see how NCS will go. 
     "I think we'll do great because we have a solid team with new freshmen who have great potential," said sophomore player Rayne Ripperger. "Also, I think we all gained confidence after we won EBAL so I'm thinking the outcome will be promising."