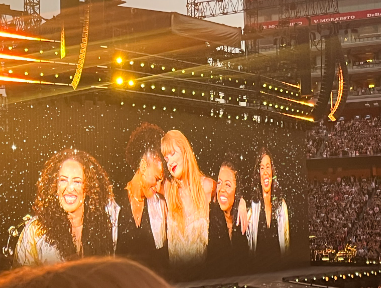 Whose concert would you go to: Taylor Swift, Drake, SZA, or Harry Styles? The debate about who's the best music artist is strong at Monte Vista as concert season remains in full swing.
     In recent years, pop icon Taylor Swift has surpassed 98.82 million monthly listeners, making her the second most streamed music artist on Spotify worldwide. Swift has been making music since 2004, her musical style ranging from country to pop through her release of 10 studio albums. Her recent Eras Tour took the world by storm, breaking a number of records along the way.
     Not far behind Swift on the list of most Spotify streams, Drake takes the sixth spot, with a total of 75.3 million monthly listeners. His alternative hip-hop, rap, and R&B music has been loved by audiences since the start of his music career in 2006, and his popularity is being made clear as his current tour, "It's All a Blur," continues to gross an average of five million dollars per night.
     With a total of 61.7 million monthly listeners on Spotify, the world-renowned female singer-songwriter, SZA, ranks twenty-first on the list of most monthly listeners. Her recent SOS Tour was in high demand, leading her to add two additional legs of the tour across Europe and North America after the first one ended.
Story continues below advertisement
     Directly behind SZA on the Spotify chart, in the twenty-second spot, is Harry Styles with a total of 61.2 million monthly listeners. His considerably long "Love on Tour" was a series of concerts from September 4, 2021 to December 22, 2022, and was even extended into the early months of 2023. 
     With so many recent concerts keeping a strong grip on current pop culture, we asked ourselves if worldwide music artist popularity correlates with MV's concert preferences. Does the most popular artist have the most popular concert? Monte Vista junior, Megan Zhang, stated that she would prefer to go to Swift's concert out of all the aforementioned musicians.
     "I'm just the biggest Swiftie ever, and I do listen to other artists, but she's my number one," Zhang said.
     According to Zhang, social media apps, such as TikTok, largely contribute to Swift's popularity and her highly sought-after tour tickets. Nowadays, people of all ages exhibit heavy reliance on social media platforms as their source of news, and because of Gen Z's seemingly obsessive habit of scrolling through TikTok, many artists rise to fame faster than ever before. When you put these pieces together, it suddenly becomes clear why the Eras Tour gained immense traction so quickly.
     Not only that, but the Eras Tour also had a unique pull factor. Many concertgoers dressed up in outfits representing Taylor Swift's album covers, songs, or other things related to the esteemed singer's life, and debuted them via social media. As fans grew more eager to share their dazzling costumes with the world, this trend became a widespread phenomenon and topic of discussion.
     It appears that the starstruck emotions many people have for popular music artists are merely the result of another online trend. The more you scroll the more influenced you may become, and it's only a matter of time before you're in a crowded concert arena surrounded by screaming fans left and right. Monte Vista senior, Dylan Jones, explained that she is "not surprised" by the nationwide statistics that rank Swift as the most popular music artist by monthly listeners and Styles as the least.
     "From social media I haven't heard much about Harry's concert, while Taylor Swift's concert got lots of publicity," Jones said.
     After conducting a schoolwide poll, the following information was collected:
     42% of people would prefer to go to Taylor Swift's concert (51 votes).
     39% of people would prefer to go to Drake's concert (47 votes).
     12% of people would prefer to go to SZA's concert (15 votes).
     6% of people would prefer to go to Harry Styles's concert (7 votes).
     "I think [the] MV stats…align with the [worldwide] stats since, with people in high school, Drake and Taylor Swift are the most popular out of [the four artists being compared]," Jones said. Yet even as Jones recognizes Swift's popularity as greater than Drake's, she would still prefer to go to Drake's concert–as would many other MV students. Jones explained that it's not necessarily just the songs or the artist themselves that can eventually make them popular, but rather if the artist is able to throw in certain unexpected visuals, props, dance choreography, general creativity with the setlist, etc.–something she believes Drake was successful in.
     Although we have discovered that the music artist with the most monthly listeners does in fact have the most preferable concert to MV students, it's also true that statistics cannot sway personal opinion. Because of this, music diversity will continue to remain strong at MV. Rock on, Mustangs!