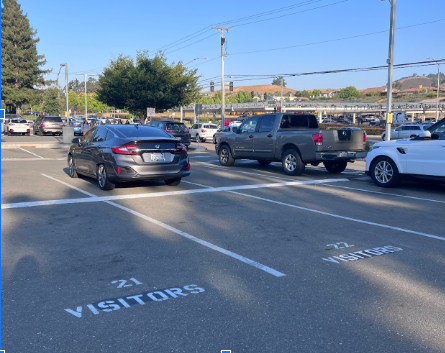 After years of Monte Vista students buying parking passes and parking wherever they pleased, Monte Vista administration has now implemented a new parking system for the new school year.
     From the "first-come-first-serve" parking, the school has switched to a system of enforcing specific spots. Upon receiving a parking pass, students were also given an assigned parking spot, marked by new painted numbers. Students must park in their assigned spot everyday in order to avoid tickets. School monitors check for a pass in the back window of a car to ensure every vehicle is where it is supposed to be. 
     If someone else is parked in another student's space, the student may park in the visitor lot and fill out a form using a QR code (found throughout the campus) informing the monitors and administration of what happened, stopping a "domino effect" of students taking each other's spots.
     According to Assistant Principal Angie Corritone, one of the organizers of the system, the inspiration behind this new system came from San Ramon Valley High School, where they have implemented this parking system for a while. Monte Vista had been one of the only high schools in the San Ramon Valley Unified School District (SRVUSD) without assigned parking until this year. 
Story continues below advertisement
     The drive for change stemmed from issues with students being unable to find parking.
     "There's a lot of students that might not have a first period, so when they get to school, there are no spots," Corritone said. 
     This new parking system is supposed to benefit many. With assigned parking spaces, it's meant to guarantee that students will have a spot everyday. 
     Additionally, the new assigned parking spots solves the need for temporary parking passes. The old system made it difficult for students who needed to come to school with a different car and request a temporary pass, which could result in wrongful ticketing. The new system allows students to scan the QR code and list the new car that would be found in their spot. 
     With the use of the new QR code form and the expanded visitor lot, less tickets are supposed to be handed out, creating less work for parking monitors and staff. According to another one of the organizers of the new system, Assistant Principal Erin Cicatelli, the assigned parking, as well as cameras in the lot, also helps administration and monitors identify reckless drivers more easily so they can follow up with those students later.       
     While the intent of the new system is to make the lives of both staff and students easier, some students don't think it is any better. 
     "I think it is a terrible system," said senior Emily Kalin. "It's creating more traffic because now less people can park in the spots that are easier to get out of and allow for better traffic flow."
     A lot of the parking spots that are closer to the exits have now been converted into visitor parking spaces, making the majority of students park further away and causing more traffic. Several students also claim that it takes them around 15 to 20 minutes just to get out of the parking lot, citing the new assigned spots as the reason. 
     "Many people are stuck with spots that take forever to get out of," said senior Daniel Gross. "Some got lucky and their spot is right in the front and they can leave the parking lot easily"
     Students do agree that the old system was flawed, but believe the new one to be even more inefficient. 
     "I  think the old system needed to be changed because people that pay for parking couldn't park if they were late, however the new system does not solve other issues," said senior J.D. Guichard. "Someone parked in my spot and though I parked in visitor parking, put a sign on my car that said my spot was taken, and filled out the form, I still got a ticket"
     The new system was meant to combat wrongful ticketing, but a handful of students are still receiving tickets whilst complying with the new system. 
     Other students believe the assigned spots don't hold students accountable.
     "[Assigned spots] removes accountability from certain students to show up to school on time," Gross said. "In the previous system, students would have been forced to come in earlier to get a good spot, compared to now it doesn't matter if I show up a half hour early or right before school starts, I still have my spot."
     The intention behind creating this system was meant to resolve the flaws of the old one and make life easier for administrators and students, and yet, it seems that the two groups have strong opposing views regarding the change. As both students and administrators navigate this new parking landscape, the verdict on its success still remains open. Only time will tell whether this change will prove to be the solution to long-standing problems or if further adjustments will be necessary to strike the right balance for all students and staff. But for now, this discussion remains ongoing within the school community
     "The new parking system was put in place to solve an existing problem, however it has created a bigger one," Guichard said.