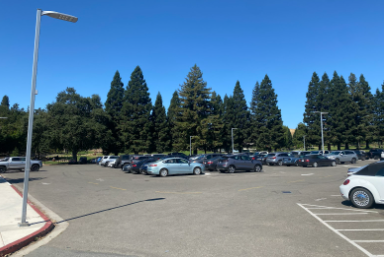 This year Monte Vista is ushering  in a new school year with a set of new rules that have left both students and parents buzzing. These rules aimed at addressing various issues from parking lot chaos to high amounts of absences, are coming with mixed reactions. 
The most notable alteration this year is the introduction of assigned parking spots. Previously, students enjoyed the freedom of parking in any available space, leading to parts of parking lots becoming overcrowded and occasional parking disputes. However, the new system has left some students frustrated. 
      "I get the idea behind it, but it's a bit of a hassle," said senior Kyle Bergen. "Now, I've got to make sure I'm in my designated spot every day, and if I'm late or someone's parked there, it's just extra stress."
Story continues below advertisement
     The administration defends this move as necessary to maintain order and ensure that students can find parking without difficulty.
     "We don't want students spending an unnecessary time trying to find parking," said Assistant Principal Angie Corritone
     Another new rule  that has raised eyebrows is the strict attendance policy. Even if students are 18 years old, they are no longer allowed to sign themselves out of class or excuse an absence. This change comes in response to a record number of absences among last year's senior class. The school aims to curb the number of absences and ensure students attend classes regularly to make sure they are ready for college. 
    "It feels like they're treating us like kids when we're almost adults," Bergen said. "I understand why it's like that though, it's not a good look for the school when that many kids are cutting class."
     While some students may view it as a loss of independence, the school administration believes it will promote a more accountable and disciplined approach to attendance.
"Even if the students are 18,  [the school] is still responsible for their whereabouts and safety."  Corritone said. 
     The final rule change revolves around access to the campus during school hours. Students with only five periods now require a sticker on their ID cards for access to the parking lots , and campus monitors must check students ID cards to confirm their exit from the premises. This measure seeks to prevent students from leaving without permission and to ensure Monte Vista upholds its "closed campus" policy.
     "It's a little extra hassle, but if Monte Vista really wants to continue to say they are a "closed campus" this is what they have to do." Bergen said.
     As the school year progresses, Monte Vista High School will closely monitor the impact of these changes on campus life and student behavior. The goal is to strike a balance between maintaining order and ensuring that students have the most enjoyable education experience possible.
     "Consistency and communication are the  key to success in any plan," Corritone said. "We will collaborate with staff and reassess what's working and what's not down the line."