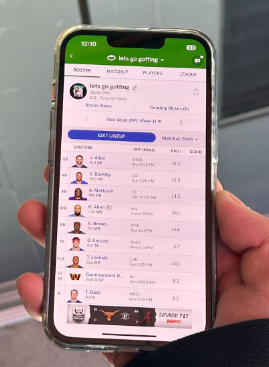 Monte Vista's (MV) fantasy football culture is in full swing following the start of the 2023 National Football League (NFL) season. 
     Fantasy football is a virtual game that follows the individual stats of NFL players. Points are given to teams depending on the player's stats. More points are given for touchdowns and yards gained. This year's best players project to Minnesota Vikings star, Justin Jefferson and San Francisco 49ers star, Christian McCaffrey. 
     MV's fantasy football culture is more than just a game to most players. It's a social event that fosters camaraderie amongst friends and other students. Many leagues usually wager money or have a punishment for last place such as buzzing your hair or harsh physical activities. MV senior and fantasy football enthusiast, Ishan Royyuru had first hand experience buzzing his hair to serve a last place punishment.
     "It was embarrassing for me because I never thought I'd actually come in last," Royyuru said. "Felt very weird and I hope to never do it again."
Story continues below advertisement
     Fantasy football has been widely popular in the football culture dating back to 1962. Over 50 million football fans participate in the popular virtual competition. It gives NFL fans more excitement when watching football and gives them more players to cheer for in a way that they wouldn't have without fantasy football. Seeing your players score two touchdowns gives competitors a sensational feeling like no other. Many students participate in it and a club has even been formed at MV for the avid fans of fantasy football.
     "I love being able to play fantasy football every year," Monte Vista sophomore and NFL fan Jacob Chiu said. "It gives me another aspect of football to look forward to every year, I love playing with my friends and watching my favorite players."
    Along with Chiu, many fans hope to build the best possible roster while partaking in friendly competition amongst their friends.