Saying Goodbye to the GOAT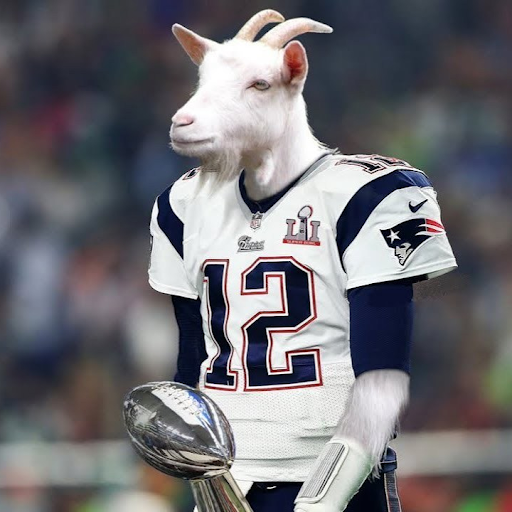 The title of "Greatest of all time" or "GOAT" is given to the player that has proven that they are the best there is. After a long successful career in the NFL, quarterback Tom Brady holds the title of GOAT in football, but who will be the player to take it from him?
     On Jan 2, 2022 Tom Brady announced his retirement from playing for the NFL. Forty days later, in Feb… he withdrew from retirement by signing a one-year contract with the Tampa Bay Buccaneers. One year after his first retirement, he retired a second time.
     "I'm retiring for good," Brady said in a short video posted to Twitter. "I know the process was a pretty big deal last time, so when I woke up this morning, I figured I'd just press record and let you guys know first. It won't be long-winded. You only get one super-emotional retirement essay, and I used mine up last year."
     Brady has played in every NFL season since the start of the 21st century, ending his 23-year long career with a multitude of achievements. Brady leads the NFL in all-time passing yards (89,214), and touchdown passes (649). He has been selected for the Pro Bowl a record 15 times. Many football fans would argue that his most notable achievement is his seven Super Bowl wins, giving him more Super Bowl wins than any other player or team. Brady also stands atop the podium for wins (251) and pass completions (7,753).
    With all the imposing statistics he's put up throughout his career, it's difficult to argue that he isn't the GOAT. And many believe that he's set some unmatchable records. It won't just take another good quarterback to surpass Brady. Passing over 89,000 yards is no easy feat to match. It can't just be done with immense skill, but will also take at least 20 years of playing professional football. Someone who can play to the same caliber as Brady is a once-in-a-generation quarterback, but being able to do so with consistency for over 20 years, that's once-in-a-lifetime.
     So who will be the next once-in-a-lifetime quarterback? What if there never is another player who can surpass Brady? It is possible that the recently retired 45-year-old quarterback will never have his legacy surpassed. Some people believe that the newest generation of quarterbacks will be the greatest generation that the NFL has ever seen, but will they be great enough?
    "Justin Fields will become the best rushing quarterback ever in my opinion. There are some other good quarterbacks, but none that top those guys." Josh Sandy, Monte Vista junior and Las Vegas Raiders super fan said.
     There are a lot of good quarterbacks whose versatile set of skills give them a good chance of surpassing Brady. The most promising quarterback right now is Patrick Mahomes.
       "Patrick Mahomes is on the path to become the GOAT." Sandy said.
     Mahomes was drafted in 2017 by the Kansas City Chiefs and has since played in three Super Bowls and won two of them, including the most recent, Super Bowl LVII (57). Patrick Mahomes's ability to adjust when something is going wrong and finish a play off with positive yardage is a highlight of his extremely vast set of skills. But that does not make him the best quarterback yet.
      "Joe Burrow and Josh Allen are going to be Hall of Famers, but only end with one to two Super Bowl rings each," Sandy said. "Trevor Lawrence will turn out to be really good, same with CJ Stroud I'm predicting." 
     Joe Burrow and Josh Allen are both very promising quarterbacks who had high draft stock and played very well in college. Allen is a 6'5" quarterback whose extraordinary athleticism and size give him the ability to run like a running back. On top of that, Allen's strong throwing arm would make you think he was a veteran quarterback. Allen's ability to run the ball gives his team greater options in how they play  making him very valuable. As a quarterback, Joe Burrow is a little more similar to Brady than other young quarterbacks are. His relaxed style of play along with his great field vision make him a top competitor for the spot of number one quarterback in the league. 
     There are a lot of great quarterbacks in the NFL at the moment, and there are just as many who will be entering the league in the next couple of years. It takes more than just a great arm to become the GOAT, but the newest generation of quarterbacks have more than just great arms. But do any of them have the skill set required to be better than Brady? Someone who can play to the same caliber as Brady is a once in a generation quarterback, but being able to do so with consistency for over 20 years, that's once in a lifetime.
Leave a Comment