Debate Champion Makes Monte Vista Proud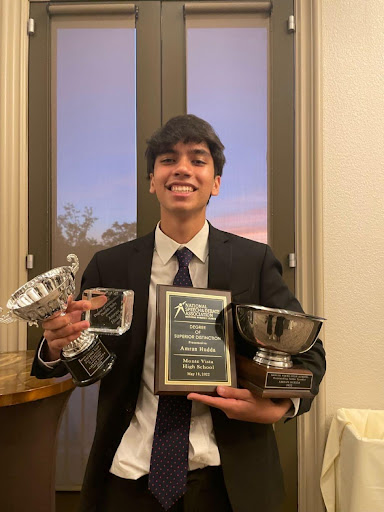 A breath in, a breath out, and he's off. The room is filled with the powerful voice of Monte Vista senior, Amran Hudda. The confidence in his voice and his mannerisms consistently impress judges and audiences alike. From the moment Hudda steps on stage, it is clear he has become a master of his craft. 
     Public speaking is often considered one of the most anxiety-provoking activities a person can engage in. But for Hudda, public speaking comes naturally.
     From a young age, Hudda demonstrated a gift for communication. Whether it was giving presentations in class or leading group discussions, Hudda had a natural ease and confidence that set him apart from his peers. He can read the room and adjust his delivery to fit the mood and energy of his audience, keeping everyone invested in his message. 
     Hudda has a knack for storytelling and a talent for using humor and relatable anecdotes to engage his audience and entertain listeners. He begins complex speeches on serious global concerns with a personal story, joke, or funny analogy to wake up his audience and get them laughing. 
     "Judges are in a room listening to speeches for an hour,so I like to catch their attention. I usually try to throw in a joke or two in my introductions," Hudda said.
     It was Hudda's mother who first suggested he try speech and debate. Initially, his intentions were simply to add to his resume for college applications, so in eighth grade, he enrolled in Monte Vista's speech and debate summer camp run by Monte Vista teacher David Matley. 
     Hudda joined the class his freshman year  and competed in oral interpretation, qualifying for finals in various tournaments. Sophomore year, however, challenged Hudda. After not achieving similarly impressive results  as in the previous year, Hudda wanted it more than ever. By junior year, he had found his rhythm. With countless hours of practice and prep, Hudda qualified as a finalist at some of the most competitive tournaments in the country. 
     In 2022 Hudda competed and won at the Berkeley Invitational Congressional debate. He then moved on to the Tournament of Champions (TOC) and finished twelfth. 
     This year Hudda competed at the Martin Luther King Invitational Congressional debate and finished second. 
     Hudda moved on to the Harvard Invitational Congressional Debate, a massive and highly competitive tournament with nearly 400 elite (congress) debaters invited to Boston to compete each winter. The top 16 are invited to the round robin, where only the top debaters compete against each other. Hudda finished tenth in the round robin and eighth overall for the whole tournament.
    Hudda's next challenge will be in April at the 2023 TOC. Debaters require a minimum of two bids in order to qualify for TOC. Despite having three bids, Hudda automatically qualified for this year's TOC due to his high ranking in last year's finals.
     Hudda proudly represents Monte Vista's academic capabilities and tenacity. With a promising future, Hudda is excited to see where he can take his talents. April won't be the last time the room is filled with the voice of Amran Hudda. 
     "I'm unsure of where I will be furthering my education, but I can't wait to see what I can do with my career," Hudda said. 
Leave a Comment
About the Contributor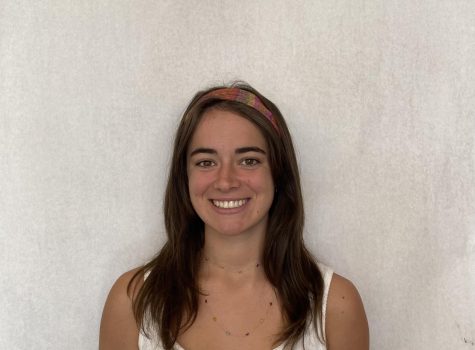 Iliana Sherry, Staff Writer
Iliana Sherry is beginning her first year in the Journalism program and is a senior at Monte Vista. Iliana...