Music fans worst enemy: Ticketmaster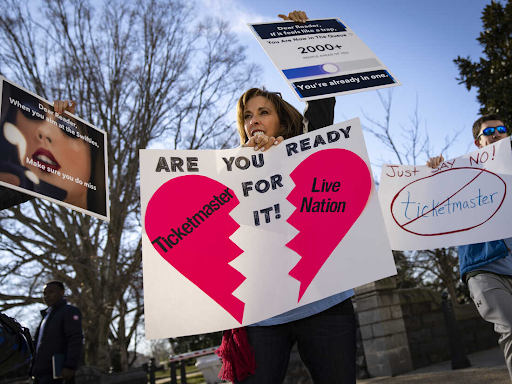 A company once loved for supplying its customers with event tickets has become one of the most hated sites for millions of fans. 
     Ticketmaster is a company that provides people with tickets to concerts, sporting events, and more. In recent months, however, customers have grown frustrated with the company's dominance over the ticket buying industry.
     "Ticketmaster controls upward of 75% of all tickets sold for live performances in the United States," economics teacher Jill Seidenverg said. "They have complete control over certain venues, so artists can't perform at these venues unless they sell their tickets through Ticketmaster."
     For popular events, such as Taylor Swift's "The Era's Tour," Ticketmaster uses its Verified Fan program to give out pre-sale codes to random fans, without taking into account location or if the person is genuinely a fan.. Having a pre-sale code allows fans to purchase tickets prior to the general public sale. Due to extremely high demand, Swift's management team, Taylor Nation, worked with Ticketmaster to ensure that only Swifties got a boost in the lottery system for Verified Fan. Ticketmaster, however, ended up giving most Verified Fan presale codes to people without this boost.
     This is just one way in which the system is incredibly flawed. Many people with intentions of reselling tickets to gain profit were able to purchase tickets in the presale, while real fans were not. In order for genuine fans to get tickets to their favorite artists' shows, Ticketmaster needs to implement a system that is targeted rather than a random lottery. 
     Another example of the flawed system can be seen with Ticketmaster's presale for Harry Styles' birthday concert in February of this year. This was a special show for just two nights in Palm Springs, in a venue that seats just 11,000 people. 250,000 signed up for Verified Fan, and with the lottery system, many fans who live in different states, or even different countries, were able to get a presale code when local fans were not. This system allowed non-local fans to buy tickets with their code and resell them for a high profit.
     To ensure that local fans are able to get affordable tickets to concerts in their area, Ticketmaster should take into account location when giving out pre-sale codes. Yes, there are some dedicated fans that are willing to fly out for concerts, but due to high costs of plane and concert tickets many only have the option to attend local concerts. Providing local fans with pre-sale codes would allow them to attend a concert that is accessible for them, rather than giving them a code to a concert across the country. 
     Another flaw to be addressed in regards to Verified Fan is the queue system. The queue acts as a virtual line for fans to wait in when purchasing tickets, but Ticketmaster doesn't require customers to input their Verified Fan code until after they have moved through the queue. This causes space in line to be taken up by people without codes, and during the presale for "The Era's Tour," an overload of fans in the queue caused the system to crash. To help these extremely long queue wait times and prevent the system from crashing again, Ticketmaster needs to have fans input their presale codes before they enter the queue.
     Apart from Verified Fan issues, Ticketmaster's dynamic pricing has left a multitude of fans angry. When there is a high demand for a concert, such as Swift's "The Era's Tour" or Styles' birthday show, Ticketmaster implements platinum ticket prices. The name 'platinum ticket' may sound like a special VIP package, but all it means is that the ticket is very expensive due to the demand. 
     "When there's a high demand event, you can't get the seats you want for face value," Seidenverg said.
     In order to ensure the ticket buying process is fair for all customers, Ticketmaster needs to eliminate dynamic pricing along with implementing a location based pre-sale. During the time tickets are being sold, more and more platinum priced tickets become available when the demand is high. This leaves fans with a lower budget unable to purchase tickets, while some fans don't necessarily need to worry about the high prices. 
     In addition to these platinum prices, buyers face another pricing obstacle. When checking out, Ticketmaster requires the customer to pay a service fee, which can range from 40-50% of the cost of the ticket. So after preparing to pay these high prices, customers realize that they have to pay even more at checkout.
     "I get frustrated when I have to pay the service fee," Seidenverg said. "I have no other choice than to buy tickets through Ticketmaster, and then they add a separate charge on top of the tickets."
     To gain back the trust of its customers, Ticketmaster needs to be more honest and make the changes fans are demanding. Beyonce is an example of a singer who had tickets go on sale on Ticketmaster after the fiasco with Swift's tickets. Beyonce fans saw some improvement with Verified Fan, as the system did not crash, but tickets were still extremely overpriced with Ticketmaster using platinum pricing. 
     Ticketmaster has started taking the necessary steps to improve their ticket-buying process, but they can still do better. By making more changes customers are asking for, fans will have greater opportunities to purchase tickets for the artists they love.
Leave a Comment
About the Contributor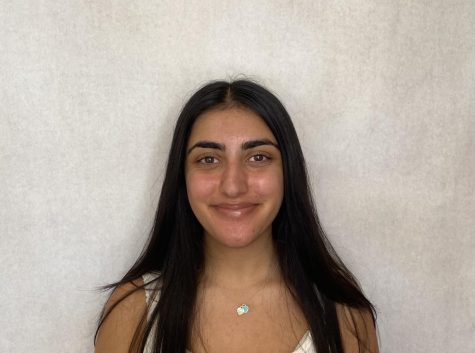 Shreya Bhasin, Social Media Manager
Shreya Bhasin is a senior and starting her fourth year on The Stampede.  Shreya has been Social Media...