Keith Lee Changing Lives One Bite at a Time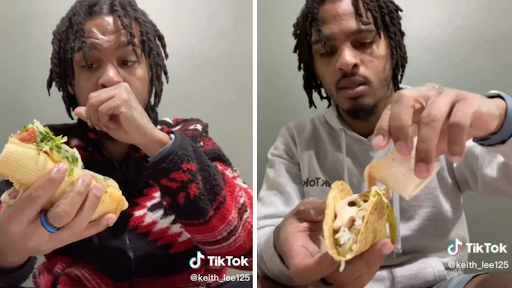 Food is something that holds a special place in many people's hearts.  The culinary arts is an outlet to explore culture and taste in a delicious way.
     The idea behind doing a food review has been around for a long time, the first ever restaurant review being published in the New York Times in 1859.  Food reviews can usually be seen on TV and some social media platforms.  These TV series often feature famous chefs who will visit restaurants that are already well known for their food. Examples of shows like this include Guy Fieri's Diners, Drive-Ins and Dives, or Gordon Ramsay's Kitchen Nightmares.  However, a more kind creator on TikTok named Keith Lee (@keith_lee125 on TikTok) has been blowing up recently for his quick and honest food reviews.
     Lee, unlike many food review entertainers, prefers to rate food destinations that have less of an audience.  He goes to the struggling restaurants and sees what they have to offer.  Lee gives an honest review, with the hope that places with good food that lack prior publicity will get the recognition they deserve.  He is a Las Vegas resident, and primarily reviews places in the Las Vegas area.  Lee's reviews have helped struggling restaurants go from having no customers, to serving lines bursting out the doors.  His videos help so many struggling restaurants make the money to continue serving great food all over Las Vegas.  One of Lee's most liked videos is a review of Frankensons Pizzeria.
     An employee at Frankensons had emailed Lee explaining that the restaurant had great food, but got very little business. The employee mentioned that they suspected the lack of business was due to bad marketing.  Lee decided to try the food and post it for one of his TikTok videos.  Lee noted that almost everything that he had purchased from Frankensons was phenomenal, only criticizing the ranch dressing. Lee agreed with the employee of the restaurant that the lack of business was a product of poor marketing. Just hours after Lee's video went out, the restaurant began to receive overwhelming business.  KTNV Channel 13 Las Vegas reported on Frankensons recent success.  
     "I sold more lemon pepper wings in the last two days than I have in the last four months," said Frankenson's owner, Frank Steele.  "I had people coming in from Iowa, people from California.  I had a family come up from Lake Havasu. I had people come down from Utah."
     Lee's videos reached viewers on TikTok from all different parts of the country who want to come and try some of the delicious food he reviews.  Some Monte Vista students are regular viewers of Keith Lee and they understand why he has such a profound effect on attracting customers to restaurants.
     "I think that Keith Lee's videos have had such a major effect on the restaurants that he reviews because he really does give his honest opinion," said Monte Vista junior Nico Battaglia. "And more people are willing to watch a 1-2 minute video rather than a whole episode of a restaurant review on YouTube or TV."
     Lee has made numerous other videos reviewing all types of food places in Las Vegas and has changed the lives of restaurant owners and workers, putting delicious food into the spotlight for everybody to see and want to try for themselves.  A recent series Lee started follows the same style as all of Lee's food review video's, but is part of a collaboration with Popular YouTube star, Mr. Beast.
     Mr. Beast is famous on YouTube for his large-scale, high-cost YouTube videos that often end with him giving away or donating large amounts of money or resources to fans, friends or those in need of help.  Mr. Beast owns his own chocolate brand, and he requested that Lee reviews it on his channel.  Upon request Lee agreed to do a chocolate review as long as Mr. Beast helped him in giving aid to a struggling family owned restaurant in Las Vegas. After both of the influencers agreed on the deal, Lee set out to review eight different food destinations in one week.  Although only the one with the best food would receive direct aid from Lee and Mr. Beast, all the restaurants would benefit greatly from the publicity of this series. 
     One of the places Lee went to for this contest was a seafood truck.  The owner of that truck, who Lee referred to as Mr. Garry, went from making fifty to one-hundred dollars a day, to making over fifty-thousand dollars in the span of 3 days all thanks to Lee's TikTok.  Lee also went to Huncho's Fried Chicken And Burgers, the owner claimed that after Lee visited their restaurant they sold the same amount of burgers in one day that they would usually sell in eight days.
     "I think the effect that Keith Lee has had on so many small businesses in Vegas is amazing," said Monte Vista junior Josh Sandy. "He doesn't just help restaurants blow up for a couple of days, after he reviews them they experience a long term increase in customers." 
     Lee's influence over so many viewers on TikTok helps him give a second chance to so many small, family owned restaurants in Las Vegas.  And along with helping those who are struggling, he gives his fans new places to explore their culinary interests and excite their taste buds. 
Leave a Comment