Puss In Boots: The Last Wish (SPOILER ALERT)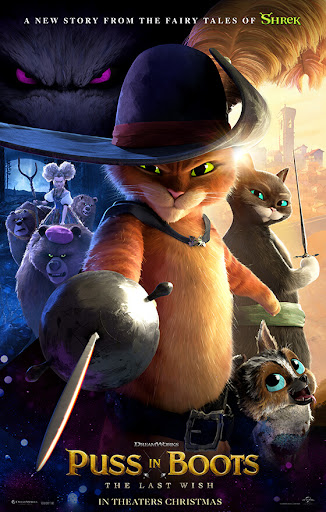 From stunning visuals to a fun and enjoyable storyline, Puss in Boots has made another appearance on the big screen after being away for over a decade.
     From the studio that created Shrek, Kung Fu Panda, and How to Train your Dragon, Dreamworks Studios presents Puss in Boots: The Last Wish. The movie follows Puss on his last life along an adventure looking for a legendary wish that can restore his nine lives, all while he tries to escape the Big Bad Wolf, a.k.a Death. Along with Puss and Death, the film includes a cheerful young puppy, Perrito, and Puss' on-off love interest, Kitty Softpaws. 
     At the beginning of the movie, Puss is portrayed as a self-obsessed "lone wolf" who works alone as a thieving outlaw. After using eight of his nine lives, Puss is forced to retreat to Mama Luna's cat shelter and retire from his adventurous lifestyle. 
     Puss then discovers that he is able to restore his lives and the movie shifts to a standard quest, seeking the mythical wish that could save Puss from Death. As he develops from being a self-absorbed outlaw to a thoughtful hero, Puss learns that he doesn't need multiple lives to live the adventurous life he loves; he just needs to protect the one life he has left.
     "Live your life to the fullest. . .was one of the most important life lessons from the movie because Puss had nine lives and wasted eight of them," said junior Alejandro Riofrio. "This was the whole reason for the quest, to grant him his lives back, until he realizes that maybe he should just live his last life to the fullest and it'll make [his time alive (including the wasted lives)] all worth it." 
     Throughout his journey, Puss learns the value in life and that he shouldn't take the time he has or the people he's with for granted. It's a similar journey we all go through: we live, we complain, and we hope for more, only to come to the end of our life and realize that we already had everything we ever needed, sometimes we just need someone to help open our eyes to that idea. In this particular case, that was the good-hearted, glass-half-full, puppy Perrito, who speaks with Puss towards the end of the movie, saying, "I've only ever had one life, but sharing it with you and Kitty made it really special. Maybe… one life… is enough."
     Although the movie used a basic plot, Dreamworks was able to add a fun spin to it by combining many childhood favorite fairy tales that acted as subplots, life lessons, and symbolism during the film.
     "I think the scene in which Puss stepped out of his boots and leaves all of his clothes and buries them was great symbolism," Riofrio said. "Then to see him go back and regain his clothes and newfound identity was satisfying to see."
     Along with the heart-warming storyline, and some delightful symbolism, there was a drastic change in animation style compared to the first Puss In Boots movie that was released in 2011. Mimicking the style of Columbia Pictures' movie, Spider-man: Into the Spider-Verse, the film includes a blend of 2D and 3D animation and different frame rates to accentuate the action scenes. 
     "I really liked the animation, especially with the fighting and action scenes," Junior Ava Wolfe said. "I think it's cool [Dreamworks] incorporated this type of comic book animation into the movie."
     The movie's antagonist, Death, is portrayed as the Big Bad Wolf. This helps in representing the fairy tale portion of the movie by keeping the villain of the story consistent with the villain in most fairy tales, the Big Bad Wolf. However, Death seems to be the most outstanding teacher about life throughout the movie. His mere presence captures the audience's attention, enthralling them with his mystery and nightmarish look. 
     "The Wolf was a great villain because you expected him to be a bounty hunter but was actually Death," junior Lela Mostofi said. "He only wanted to kill Puss until Puss showed that he valued life and I think that just shows Wolf's character depth."
     Overall this movie is a fun thrill-seeking, death-defying, family-friendly, life-teaching, page-turning, seat-gripping experience one could be blessed with. One could also learn much about the value of life and how to enjoy it while it lasts, as we've learned from Death, "Live your life, Puss in Boots. Live it well."
Leave a Comment
About the Contributors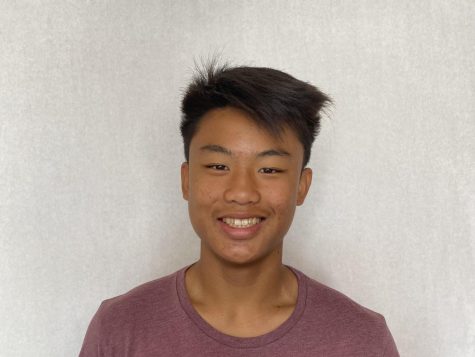 Joshua Balagot, Staff Writer
Joshua Balagot is a junior at Monte Vista. This will be his second year on The Stampede and will continue...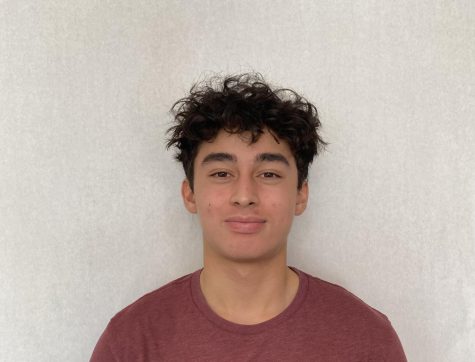 Connor Clark, Staff Writer
Connor Clark is starting his second year on The Stampede and is a junior at Monte Vista. Connor is a...