Wednesday Addams makes her return in a new hit Netflix Series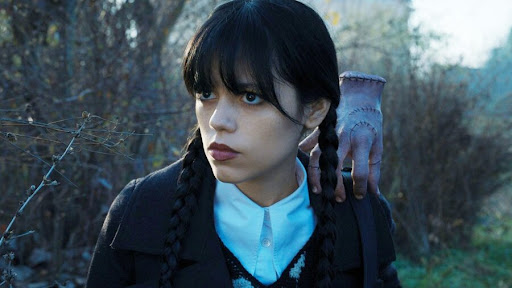 The Addams Family makes their way onto the small screen once again for a chilling and comedic adaptation of the beloved Addams Family cartoons and TV series. 
     The ghoulish fictional family was created by American cartoonist Charles Addams. His depiction of the family first originated from his Addams family cartoons, published in the New Yorker magazine in 1938. The original series made its television debut on September 18th, 1964, and from there it gained a large audience. Although certain aspects of the family's storyline has changed over the years of reboots, the show still represents the satirical dark humor that was originally represented within the original Addams cartoons. 
     The new hit Netflix show, Wednesday, surrounds a particularly eerie and peculiar young girl named Wednesday Addams. Acclaimed American filmmaker and animator, Tim Burton, premiered the first season of Wednesday on November 23, 2022. Wednesday Addams is played by 20-year-old actress Jenna Ortega, who takes a more modern approach to her persona in the show. Actress Christina Ricci, who originally played Wednesday in the 90s series, had a bit of a different look than Ortega's Wednesday. Ricci was portrayed with classic pigtails but had no bangs. She also wasn't given a diverse wardrobe throughout the original films. In comparison, Ortega's adaptation occasionally portrays her wearing hoodies and pants, which are more common with a modern teenager's look. 
     Wednesday's mother Morticia Addams, is played by Catherine Zeta-Jones, her father, Gomez Addams, is played by Luis Guzman, and her younger brother, Pugsley, is played by Isaac Ordonez. Her parents on the surface seem to be truthful people, although beneath this false demeanor they hide many secrets. 
      Wednesday is a very irritable and antisocial character. Wednesday ultimately gets expelled from her former high school for malicious activity when seeking revenge toward students who were bullying her brother. Addams is forcibly sent off by her parents to Nevermore Academy, a boarding school for outcasts, freaks, and monsters in Jericho, Vermont. Despite her attributes she still seems to make some friendships at her new boarding school. Normies (normal people) of Jericho look down upon these otherworldly people for their supernatural powers and other odd features they possess. Wednesday goes on several investigations to find out the secret of her parents' hidden past. To make matters even more complicated, she is trying to solve a series of mysterious killings that have been haunting Jericho ever since she arrived at the academy. Because she has developed psychic visions, she is determined to match the missing puzzle pieces of her ancestor Goody Addams' to the monster lurking on school grounds.
      Ortega's interpretation of the character has been a major breakout role for the young actress. She formerly starred in You Season 2 as well as the horror film series Scream. In fact a particular dance scene on the show has turned her into a pop culture phenomenon. Many fans on TikTok have been recreating her viral dance to The Cramps' 1981 song "Goo Goo Muck". What is intriguing to people the most is how well Ortega can shift into this morbid character and effortlessly choreograph a bizarre yet intriguing dance all on her own.
     Along with Wednesday's success in the media, the new Netflix series has great viewership success. Within its first week the show became the most watched English television series with 341.2 million hours viewed. These statistics surpassed Stranger Things Season 4 which held the previous record of 335.01 hours. Some fans of the show enjoy seeing the uniqueness of the characters, as this is what draws them to it. 
     "I loved Jenna Ortega as the casting for Wednesday," said Monte Vista junior Ysabel Godinez. "I believe she brought out the liveliness to this emotionless [girl] and made her into the calculating character we adore." 
     Although we see some parts of the plot remain the same with the original Addams Family series, there are some major character shifts that fans weren't as thrilled with.
      "In the originals, the Addams family were iconically unorthodox. With the new show, the rift between Wednesday and Morticia completely disregarded this idea, Godinez said. I believe the separation was not very necessary, but it does become a sort-of coming of age story for Wednesday."
Leave a Comment
About the Contributor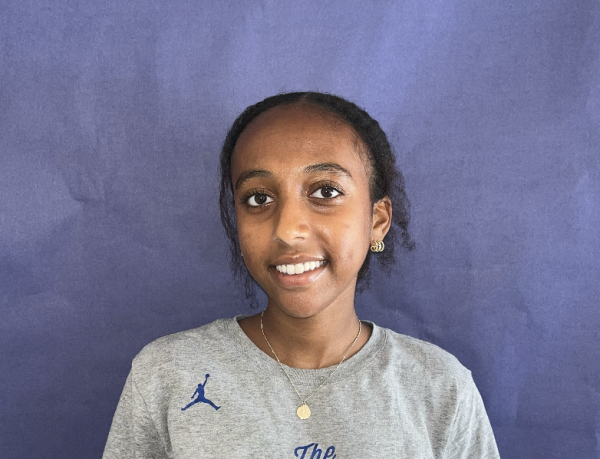 Maraki Amare, Social Media Manager
Maraki Amare is a senior at Monte Vista.  This will be her fourth year as a part of the Journalism Staff....