Antonio Brown: a never ending headache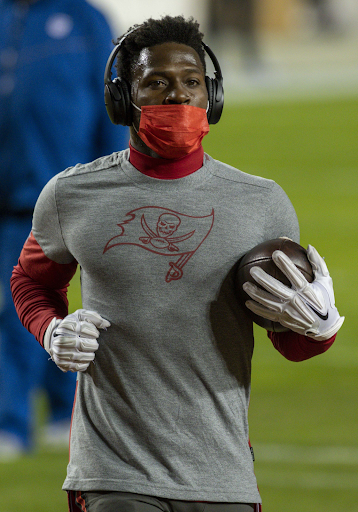 Antonio Brown has cemented himself as one of the most notorious players in the NFL due to his off the field antics and general lack of respect for the people around him, but this may be due to underlying effects from constant hits to the head. Chronic Traumatic Encephalopathy (CTE) is a brain condition that's caused by repetitive hits to the head. Symptoms of this include but are not limited to impaired judgment, lack of impulse control, anxiety, and an increase in suicidal thoughts. 
     It's no secret that tackle football is a very aggressive sport. Concussions are prevalent in football and a primary result of this is CTE, with more than 90% of NFL players having CT scans  of this disease after they die (Shpigel). Junior Seau, a six-time All-Pro linebacker with the San Diego Chargers, committed suicide in 2012 due to complications from CTE. This was found by experts who did various examinations on his brain post-suicide. Up-and-coming New England Patriots tight end, Aaron Hernadez, was abruptly released from the Patriots due to a bar fight in Boston. This fight led to Hernadez shooting the man he got into the altercation with. After being convicted of murder, Hernandez committed suicide in prison. It was later revealed that Hernadez had been suffering from complications stemming from CTE.
     An underlying issue with CTE is that it can not be diagnosed until after the person dies. Many current players live with it and have no idea. Antonio Brown may be the next NFL player to have CTE. Brown has been in the news for all the wrong reasons lately.  Recently, Brown was in the news for exposing himself in a public hotel pool in Dubai.
     "He is a clown." three-time Super Bowl champion Shannon Sharpe said. "He needs to start looking in the mirror and see he is the problem."
     After transforming himself into one of the top wide receivers in the NFL during his first years in the league, Brown suffered a "serious concussion" after a vicious helmet-to-helmet hit with Cincinnati Bengals linebacker Vontaez Burfit in 2016. This concussion changed the trajectory of his career.
     "The hit was nasty." Monte Vista wide receiver Kyle Bergen said. "He hasn't been the same since."
      Before the pool incident, Brown had many more conflicts. As a member of the Pittsburgh Steelers, Brown reportedly got into multiple arguments with different teammates in the locker room and reportedly threatened to retire unless he was traded. During this same time, Brown was in the media after he threw a chair off a 22-story balcony which came close to killing a child.
      "Not only was he refusing to suit up for games, he wouldn't respond to any texts from anyone in the Steelers organization." Steelers owner Art Rooney said in an interview with SB Nation. "He left us with no choice but to move on."
     After being traded to the Oakland Raiders, the NFL enacted a policy a month before the 2019 season deeming the helmet Antonio Brown and other players wore unsafe. They were forced to change to a different style of helmet before the season started. Brown refused to switch helmets and said he wouldn't play football unless he was allowed to use his former helmet that was banned. Brown was subsequently released from the Raiders and was signed by the New England  Patriots a few days later.
      "The helmet dispute was one of  the most bizarre things I've ever seen." Oakland Raiders running back Jalen Richard said to The Ringer. "I don't know why he cared so much about it." 
     When Brown got to New England, he resolved his helmet conflict and was released from the Patriots after playing just one game. This was due to a video that appeared of Brown apparently assaulting a garbage man after he and Brown got into an argument.
      After two and a half years away from the league, Brown returned to the NFL in 2020  this time with the Tampa Bay Buccaneers to reunite with Quarterback Tom Brady. After winning the Super Bowl in 2020 and starting the first half of 2021 strong,  in Week 17 against the New York Jets, Brown appeared to get into a dispute on the sideline with head coach Bruce Arians. After the two stopped arguing, Brown took off his jersey and equipment, threw them into the stands, and ran off the field in the middle of the game. Brown became a national meme.
     "I've never watched an NFL player display this much off-the-field antics," Bergen said. "He has no ability to control his actions."
     Brown's inability to control his actions may be something beyond him. As we've seen, CTE has led to many former football stars committing horrendous acts due to their inability to control themselves. With Brown seeming to follow this trend, he is not only putting himself in danger but also the people around him. 
     If Brown is slowly losing his mind, it is not all his fault. CTE is a very vicious disease that lowers the average life expectancy to 51 years old. The disease is not only in football, as CTE is also prevalent in soccer due to all the headers that players do. The first confirmed CTE case from a professional soccer athlete was in 2020 when Scott Vermillion died of an accidental drug overdose. CTE is impossible to diagnose while you are still alive, so you will not know you have the disease until you die making it impossible to treat.
    Hall of Fame Running Back Eric Dickerson said, "You are supposed to be tough and play through pain, but it's brutal." "People see brutal hits and do not think about the effects they have on the player."
Leave a Comment
About the Contributor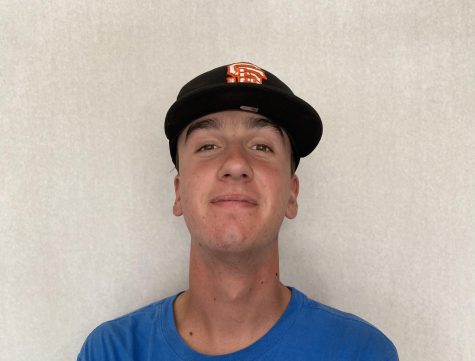 Matthew Fehr, Staff Writer
Matthew Fehr is entering his junior year at Monte Vista and his second year on The Stampede. He enjoys...