The concussion crisis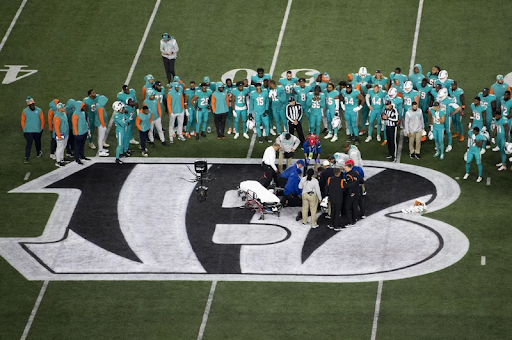 The NFL has a concussion problem… again.
     Concussions will always be a concern in the National Football League (NFL). For many years, the NFL questioned how they would solve the recurring concussion problem. This question came up again on September 29th, during week four of the 2022-23 NFL season, when the Miami Dolphins' franchise quarterback (QB) Tua Tagovailoa was seen motionless on the ground. Tagovailoa's fingers and arms were flexed unnaturally in what appeared to be a "fencing response," a major sign that someone has suffered a brain injury. 
     But why would one concussion spark controversy? Four days earlier, on September 25th, Tagovailoa suffered what seemed to be a concussion as he could barely walk on his own two feet. Tagovailoa briefly went into the NFL concussion protocols, but team doctors said it was a back injury, not a concussion and he returned to lift the Dolphins to victory.  
     Tagovailoa's injury went viral. Players like Russell Wilson, Patrick Mahomes, and Hall of Fame tight end Shannon Sharpe went to social media to voice their concerns for the Dolphins QB. 
     "That's [concussion] a serious injury. Tua shouldn't have been out there with [the] Sunday [to] Thursday turn around," Sharpe's tweet said. "Sometimes players need protecting from themselves. Dolphins failed Tua." 
     Tagovailoa isn't the only player who suffers from concussions, so what has the NFL done? NFL commissioner Roger Goodell (without mentioning Tagovailoa's name) said that the league is prepared "to make a change or two", while also stating that there has been "more chatter" regarding concussions. 
     That "chatter" has not only been among NFL officials like Goodell, but also with the National Football League Players Association (NFLPA). The NFLPA and especially NFLPA president JC Tretter has been publically vocal about the concussion controversy.
     "Our job as the NFLPA is to take every possible measure to get the facts and hold those responsible accountable," Tretter said. "We need to figure out how and why the decisions were made last Sunday [September 25th] to allow a player with a 'no-go' symptom back on the field."
     Before adjusting the flawed concussion protocols, the NFLPA investigated what went wrong for Tagovailoa. The investigation concluded and the NFLPA fired an unaffiliated neurotrauma consultant after they found the doctor had made "several mistakes" in his medical evaluation of Tagovailoa.
     "A failure in medical judgment is a failure of the protocols when it comes to the well being of our players," Tretter said.
     The NFL and NFLPA worked together to update the concussion protocols. The two sides agreed to add the diagnosis of "ataxia" to the long list of "no-go" symptoms that determine if a player can re-enter a game. Common symptoms of ataxia include poor coordination, walking unsteadily, and poor balance. Players like Daniel Jones, Nyheim Hines, and Tua Tagovailoa have all exhibited these symptoms in previous games.  
    The continuous updating of protocols and firing of medical staff only adds to the never-ending cycle of the concussion problem the NFL faces. 
     Another factor in that cycle is football helmets. Helmets are constantly discussed and new helmets debut every season. Dallas Cowboys running back Ezekiel Elliott has started wearing the new Riddell Axiom helmet this season, which improves prevention of Chronic Traumatic Encephalopathy or CTE. 
     Many teams also wear Guardian Caps at practice, which is an extra layer of padding around players' heads. Pittsburgh Steelers head coach Mike Tomlin is one of the many coaches who has his players wear the caps at practice.
     "As a leader of the group, it's my job to safeguard them [players] and make their working environment as safe as I can make it," Tomlin said. 
     Concussions and player safety will always be issues that loom over the NFL and football in general. There will likely be new rules and regulations put in place every season, but it will be the players who suffer from it. 
     "We have come a long way over the past 15 years but the last week [when Tagovailoa got injured] proves how far we have left to go," Tretter said.
Leave a Comment
About the Contributor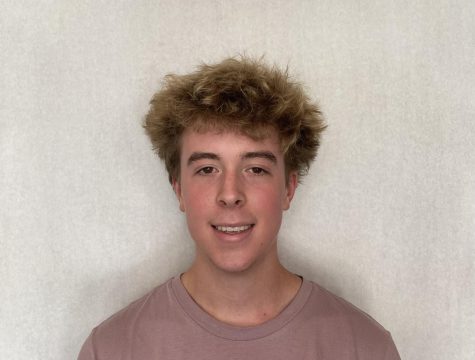 Devin Blish, Online Editor
Devin Blish is beginning his fourth and last year in the Journalism program and is a senior at Monte...