Singers to soldiers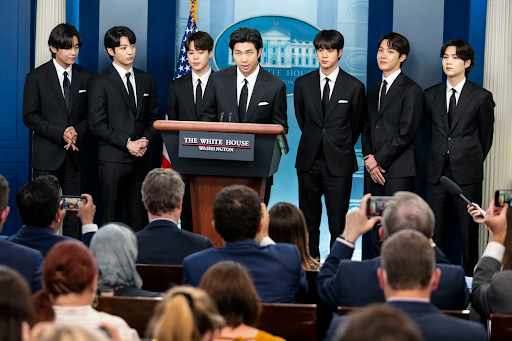 Members of  popular K-pop band, BTS, will be on temporary break from making group music while they embark on 18 months of mandatory military service.  They are exiting the stage and entering boot camp as they head on their way to the Republic of Korea[ROK] Armed Forces.     
     Since 1957 all able-bodied men in South Korea,  ages 18-28,  are required to serve at least 18 months in the ROK Armed Forces.  
     A law passed in 2017 by the South Korean Parliament allowed the members of BTS to wait until the age of 30 before attending their military service.   Prior to a law passing in 2020 granting BTS members a momentary exemption, any man who received a global award for athletics, such as an Olympic medal, or any musician recommended by the Minister of Culture, Sports and Tourism, could replace military duty with alternative services.   But, a new argument has arisen on whether they should be fully exempt from military service.  This conversation was quickly shut down when the group's label stated that they would be enlisting shortly.  
     The ages of the group members vary and they have decided to not all enlist at the same time to give themselves time to explore their solo talents a little bit.  This also means that they will not finish their military duties at the same time.  The oldest member Jin, first to enlist, will be 30 years old soon, which would have marked the end of his exemption anyway.
     According to a Forbes article by Siladitya Ray, it's estimated that the earliest the group will be able to perform with all of its members again would be 2025.  This will leave a lot of people without new music from their K-pop band for a while.
     The BTS army, as the group's fans are called, is made up of over 90 million people from around the world.  BTS has generated over one billion dollars for South Korea through the sales of merchandise and cosmetics as well as the country's increasing number of tourists in the past decade, excluding years shutdown by Covid-19.  Their economic value was a large factor leading to the decision that granted them momentary military exemption.
     Fans around the world shared their sentiments, many stating that although they were disappointed in BTS's decision to fulfill their military duties, they wished the best for the beloved K-pop stars.  A few students from Monte Vista are a part of the devoted, yet understanding fangroup.
     "I'm disappointed that we won't be able to see [BTS] with the whole group involved in new music for a while," said Ava Wolfe, a Monte Vista junior. "But I support their decision to take part in their country's traditions."
     According to ABC News, "A majority of [South Koreans] 60.9% said they were in favor of exempting the group members from military service while 34.3% opposed the idea."  
     Although they have most of the country's support behind them regarding receiving exemption, they will be enlisting shortly.  A big reason why the group wants to fulfill their military duties is that it gives them an opportunity to explore and reveal to the world their musical talents as solo artists.  They were granted the ability to make, perform and release music while completing their service as long as it did not interfere with their duties as soldiers.  Plus, before and after they do at least 18 months of service they can commit all their time to solo albums and songs.
      "Even though they made great music when they performed as a group," said Cole Morse, a Monte Vista Junior. "I am interested to see how they decide to explore their own individual musical talents."
     The BTS members will make music on their own before reuniting in the coming years.  But for now many fans are waiting anxiously for the latest news on BTS's military service and how long it will be before they get back to making hits.
Leave a Comment