The toughest game: the balance between school and sports
  Balancing school and athletics can be difficult for many students across the Monte Vista community. The question is how difficult is it to balance and does it affect our students?
     Playing a sport can be a huge time commitment, especially for students who play sports for Monte Vista along with playing for their club teams. During a sport season, athletes are out on the fields, courts, track, or pool almost every day of the week, whether it is before or after school, or both. Playing sports can take anywhere between two to ten plus hours per week that could be used for studying and relaxing. 
     The time of year that a sports season occurs can make a difference when affecting students as different important things happen at different times. 
     Fall sports can be difficult since students are still getting into a new routine for school, and every grade they get matters, especially in the beginning of the year since each grade on an assignment or test can weigh an overall grade heavily. 
     "Tennis season is hard because I'm still getting into the groove of things at school," senior student-athlete Dani Michiels said. "So having the after school commitment along with it [tennis season] makes everything difficult." 
     Then, with winter sports, students worry about school winter finals along with their sport. When spring comes around, although students are used to their routines at school, many have to worry about finals and AP testing on top of playing their sport. 
     "Spring is tough, especially for a senior, the weather is nice, you just want to graduate, but you still have to balance your sport" Monte Vista teacher and basketball coach, Nicholas Jones said. 
     Not only do sports take up a lot of a student-athlete's time, it is also a huge physical and emotional commitment. 
     For some sports, the physical commitment may also be greater than for other athletes. Most athletes can say that they get sore and tired often practicing or playing games nearly every day. However, when it comes to injuries, some sports are much more prone to injuries than others.
     Along with the physical commitment, there are also many emotional tolls for being a student-athlete, as they sometimes get very stressed from the overload of activities and tasks, or just simply exhausted. Many students have schedules that are very demanding and tight-fit, going from doing one thing to another, without any breaks, stressing them out. 
     "I'm always busy between tennis, soccer, and school." Michiels said, "My schedule pretty much revolves around going to school, going to tennis, then soccer, and then staying up late doing homework."
     Along with athletics, going to school is a big commitment for a student-athlete. Most students end up with hours upon hours of homework every night, whether they take advanced classes or not. Then, when students go to practice or games everyday, many do not have time to unwind before beginning their homework, due to the amount of homework loaded on them. 
     "Because of my hard classes, I have no free time coming home from practice. I always feel very tired and I don't comprehend my homework as well" Monte Vista baseball player Liam Clay said.
     Although some may argue that students chose to take those classes and play their sports, they don't realize how much of a commitment it may be until they are in the situation. 
     Having to balance going to practice or games every day after school, and then having to do homework afterwards, can be draining. Student-athletes don't have much free time to relax and unwind, causing an overload of stress, and leading to students not sleeping enough because they are staying up late doing homework. 
     The time commitment created by a regular sports season and school can be huge. When tournaments like NCS come up, students may end up missing school. For some sports, games can mean that a student-athlete has to leave school early to go to the game. Other times, tournaments can cause students to miss various days of school.
     "During NCS, it becomes a struggle because I end up missing an entire week of school," Michells said. 
     When students are missing up to a week of school at a time, it can have big effects on their grades. Students can miss important lessons, tests, labs, or projects, causing them to be very behind on their work and having to spend more time than usual studying and catching up.
     "I don't like when I have to miss school for baseball because then I have to make up work and it can get very stressful," Clay said. 
     Though it can be tough to balance school, sports, and a social life, there are ways to better the situation. Some solutions that are loved by students and teachers are to use any free time a student has during school to catch up on work, so it doesn't become an issue later, or even get ahead.
     "I think that if you are disciplined, and balanced, it can all work out." Jones said. 
     When student-athletes are able to find that balance and discipline, while utilizing their given time at school during student support to catch up, or get ahead, they are sometimes able to decrease some of their school-related stress levels. They can then focus more on their sport and spend more time socializing. Some students have found that the two hours of in-school time every week during student support is the perfect time to do homework, so they aren't staying up late, worrying about the homework that they procrastinated. 
     "I love being able to use student support to do my homework early or make up something I missed because of a game, it really helps me," Clay said. 
     Once students are able to allot more time, then they are then able to spend time with their friends and are also able to relax during their freetime. 
     "It's time management, it's prioritizing, it's not wasting time and procrastinating, all the meaningless stuff like the social media, get rid of all that," Jones said, "Get your homework done, go to practice, and then go hang out with your friends."
Leave a Comment
About the Contributor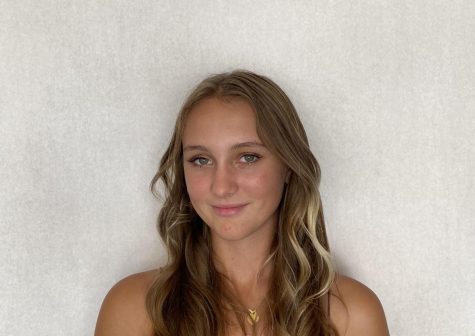 Esther Premazzi, Sports Editor
Esther is a junior at Monte Vista and is currently in her third year on The Stampede. She is looking...