Do worry, there's drama darling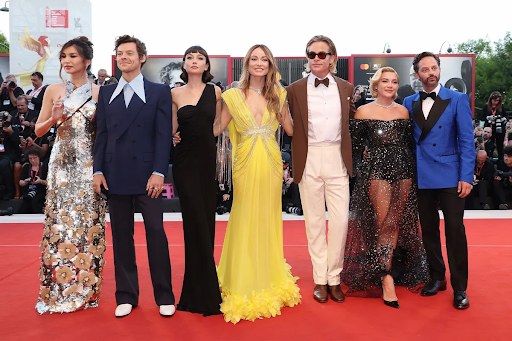 From love triangles to fan theories, director Olivia Wilde's new movie, Don't Worry Darling, has caused major controversy. 
     The film is a horror-filled thriller that takes place in a 1950s utopian society.  The main character Alice Chambers, played by Florence Pugh, is skeptical of the secrets that are hiding beneath the glamorous front of their utopian town.  Her husband Jack Chambers, played by Harry Styles, is working on a top-secret project in their town, and Alice is determined to find out what is really going on.  
     Although the movie was released on September 23, fans have been involved in behind-the-scenes drama since January of 2021.  Rumors started circulating that Wilde was dating Styles, the male lead from the film.  While their relationship has been confirmed since then, there is still speculation that Wilde and Styles never actually dated and it was just a ruse to draw attention to the film.  Fans also seemed uncomfortable with the age gap between Wilde and Styles, as Wilde is ten years older than him.
     In November of 2020, Wilde announced that she was no longer with her ex-fiancé, actor Jason Sudeikis, only two months before her relationship with Styles was leaked to the public.  The idea that Wilde was having an affair with Styles during filming sparked thought that the affair was the reason for her separation from Sudeikis.  Of course, this is just a rumor, but it has brought more eyes to the film.
     Apart from the relationship conspiracies, there has been a lot of discussion about Wilde's relationship with Pugh, the movie's lead.  This started with Pugh feeling uncomfortable working with her original co-star, Shia LaBeouf, due to sexual assault allegations against him.  Wilde later came out and said she fired LaBeouf to ensure a "trusting environment" on set, but LaBeouf said otherwise.  LaBeouf leaked a video and text messages that indicated Wilde wanted to keep him onboard, and she felt Pugh was being dramatic about the situation.  In the video, Wilde is heard criticizing Pugh for her refusal to work with LaBeouf.
     "I think this might be a bit of a wake-up call for Miss Flo [Pugh]," Wilde said in a video to LaBeouf.  "I want to know if you're [LaBeouf] open to giving this a shot with me, with us."
     This video caused major backlash among Pugh's fans.  Many supported Pugh's decision in not wanting to work with LaBeouf, and called out Wilde for being dismissive of Pugh's concerns.  
     "I completely agree with Pugh's refusal to work with Labeouf," Monte Vista senior Cate O'Connor said.  "He was getting sued for sexually assaulting his fiancé, and he and Pugh were supposed to do intimate scenes together."
     Due to all of the issues surrounding the video and Wilde appearing to be unsympathetic, Pugh has not been promoting or doing press for the movie.  She claims she is too busy with the filming of Dune 2 to do press for Don't Worry Darling, but fans believe she won't do press because of her problems with Wilde.
     "I get that Pugh doesn't like Wilde, but it's kind of petty to not promote the movie," O'Connor said.  "She barely promoted the movie at all and then chose not to do a press conference at the Venice Film Festival."
     When it comes to movie promotion, Styles has been more involved.  There was a promotion pop-up in Toronto that was giving out various raffles and prizes for fans who attended.  Prizes ranged from free popcorn to three Harry Styles concert tickets.  
     "I thought the free tickets were weird," O'Connor said.  "It seemed like Wilde was using Styles to get his fans to come watch the movie."      
     O'Connor and other fans had concerns about Styles and Wilde's relationship.  These concerns skyrocketed during the Venice Film Festival, when fans were led to believe that Styles and Wilde had broken up.
     During the festival, Styles and Wilde barely interacted.  When they were at the panel for the film's press conference, they sat on opposite sides of the table.  Additionally, Wilde was asked about her relationship with Pugh at the press conference, and she claimed the two of them were on good terms.  However, after Wilde said this, Styles could not contain his smile and had to suppress his laughter.  Fans have also pointed out that actors Chris Pine and Sydney Chandler have been acting as 'human buffers' between Styles, Wilde, and Pugh.
     But the most controversial part of the festival was not the relationship drama, or the drama between Wilde and Pugh.  It was a five second interaction between Pine and Styles.  There is a video clip showing Styles taking his seat next to Pine, and seemingly spitting on Pine's lap.  Most fans recognize that it was a coincidence that Pine had a weird reaction just as Styles supposedly spit on him, and have joked about the situation.  Styles himself has managed to keep quiet about all of the drama surrounding the film, but decided to make a light hearted joke about the Pine incident at one of his concerts.
     "It's wonderful to be back in New York," Styles said.  "I just popped in quickly to Venice to spit on Chris Pine."   
Leave a Comment
About the Contributor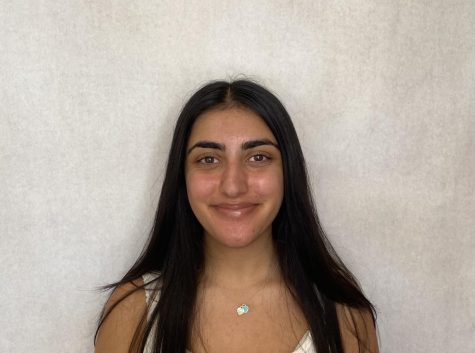 Shreya Bhasin, Social Media Manager
Shreya Bhasin is a senior and starting her fourth year on The Stampede.  Shreya has been Social Media...