Euphoria: a reflection of reality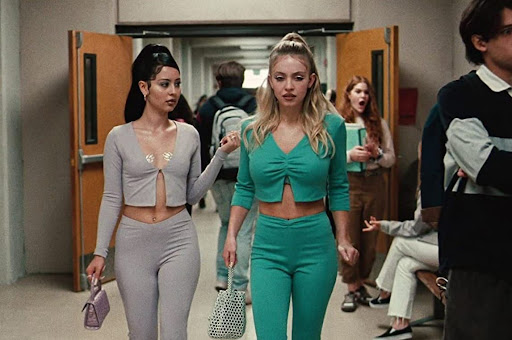 Characters from the hit HBO series "Euphoria" never shy away from attending school dressed to the nines. Whether they're attending science or English class, many characters show up like it's their personal runway. 
     "Euphoria" is a TV-MA rated drama series following a group of high school students who explore adulthood as they deal with issues of drug use, sexuality, and violence. The show depicts mental illnesses and mature topics that may not be suitable for young audiences.  
     Major trends have started to appear as a result of the show's affinity for flamboyant and ostentatious costumes in ordinary environments.
     On the social media platform TikTok, content creator @ellio_spaghettio started a trend satirizing the extravagant outfits of characters from the series. The trend shows the creator wearing a "school-appropriate" outfit and subsequently switching into a more expressive, "Euphoria-approved" outfit. 
     This caused a snowball effect; tons of users started participating in the trend creating their own videos with a twist. One user (@curedeggyolk) changed into what can hardly be described as an outfit, sporting a top assembled by tying together two black disposable face masks. 
     This trend perfectly reflects the frivolous nature of "Euphoria" costumes and the show's aesthetic in general. The TikTok creators' exaggeration of that reflection adds to the absurd portrayals in the HBO series. 
     Many social media users (on a multitude of platforms) recreate "Euphoria" makeup looks or even attempt to embody the show's aesthetic in the form of makeup. Whether those social media users are professional makeup artists, influencers, or simply a fad follower, the "Euphoria" makeup looks, without fail, turn out looking glitzed to the max. The glittering eye makeup and bold shimmering lips have become such "Euphoria" trademarks that many people are starting to associate the dazzling makeup style with the show and its characters. 
     One of the most well-known characters in the hit series is Madeleine Perez (more commonly known as Maddy). She is recognized as the strikingly confident character who never shies away from a bold outfit or an even bolder makeup look. She's rarely found alone, constantly surrounded by people and friends; however, she always says what's on her mind and does not what people think of her.
     Maddy is comfortable with her sexuality and unfazed when it comes to mature environments. She is often seen using her sexuality and attractiveness to her advantage. These character traits are exemplified by her outfits which are revealing, seductive, and stylish.
     Many young "Euphoria" enthusiasts view Maddy as an icon and role model. As a result, they assume Maddy's fictional persona (through the mimicking of personality, makeup, and costumes) and present themselves as such. Those who incorporate the previously stated qualities into their cosmetic recreations then also come off as self-assured and fashionable. The show's influence on its audience is noteworthy. 
     Beyond its superficial trends on social media, "Euphoria"'s stylistic choices correlate with real life as well. The various styles worn by the show's characters reflect on today's society and its obsessions; for example, the anime-inspired looks worn by character Jules and the bondage-esque accessories designed for character Kat.
     "In the age of social media outrage, it's rare for a costume designer to take the kind of risks that "Euphoria"'s Heidi Bivens does," Mel Ottenberg writes for Interview Magazine.
     "Euphoria"'s second season turned out to be much darker (in plot, set design, costume design, and lighting) than the first.
     "Part of the motivation behind the storyline this season was to get really deep, and to move away from some of the social media versions of what "Euphoria" was becoming," Bivens, "Euphoria"'s costume designer, said.
     This shift was obvious in the way the characters developed as well as how their costumes evolved. Throughout the second season, viewers rediscover their beloved characters and watch as the costumes become riskier and more fantastical. The show ends up revealing that the characters are essentially the same, but as they grow older, there's so much more to them.
     Similarly, some adolescents move through their teenage years becoming more major. They rediscover themselves and find their personal style, becoming a larger version of themselves with every passing minute.
     However, many young people in this new generation look to others to mimic. Influenced by the media, these teenagers craft their styles incorporating Instagram and TikTok fashion. They conform to the accessible mall culture that follows the superficial trends from social media. 
     This trend of resorting to conformity and imitation as a result of having yet to discover one's identity is seen in "Euphoria" character Cassie Howard. 
     "[Cassie] doesn't really know who she is. She's looking at other girls and being like, 'Oh.'," Bevin said in reference to Cassie's lack of individuality. 
     "Euphoria" is an incredible example of how teenagers can either break the standards and boundaries of self-expression or satisfy the stereotype that each person is a carbon copy of the next. Either way, every individual is on their own journey of self-discovery.
Leave a Comment
About the Contributor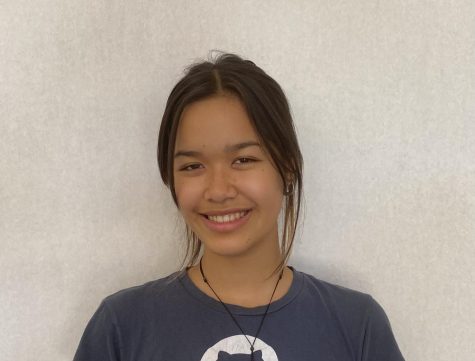 Siena Vu, Art and Photo Director
Siena Vu is a junior at Monte Vista returning for her second year on the Stampede. She is the Art and...