Pajamas in school: The new look
What used to be worn on a single spirit day has now become part of daily fashion. Joining forces with white Air Force Ones, it seems that now everyone also owns a pair of red and black plaid pajama pants.
     Frowned upon by many parents, wearing pajamas in school has always been subject to controversy as critics feel they are distracting while students claim the importance of comfort. Netizen Simon Books, wrote in a post on moms.com, a website focused on sharing parenting tips, that she believes wearing pajamas to school is sloppy, inappropriate, disrespectful, and does not promote a learning environment. Much of this sentiment is due to pajamas traditionally being worn as sleepwear only. However, fashion trends may have shifted pajamas into a style radiating a casual and relaxed vibe. Monte Vista held a pajama spirit day on every Monday in December, embracing the feeling of warmth and coziness of the holiday season.
     However, months later, students have not let the absence of holiday season stop them from wearing pajamas. Michael Xu, a junior, is a proud owner of red and black pajamas.
     "I saw a lot of people wearing them and thought they looked really good," Xu said. "So I hopped on Amazon and typed in 'flannel pajamas' and there they were waiting for me."
     The rise in students wearing pajamas to school may also correspond to people simply not putting in as much effort to dress up every morning.
     "People realized that being comfortable is more important than looking a tiny bit better," Xu said. In the past students would put in more effort every morning to look sharp every morning. But as school fashion has shifted towards casual wear, many morning routines are being significantly shortened and students are embracing the messy straight- out- of- bed look. Comfort is also something being supported by teachers, such as Heather Giovanola, an English teacher at Monte Vista.
     "Personally I'm all for pajamas in school as long as they aren't revealing," Giovanola said. "I used to wear pajamas and sweaters to class in college a lot and I think it relaxes your mental state."
     However, the red and black pajamas have been subject to criticism by those who dislike the look. On February 1, 2022, Tiktok user @loopholers posted a video about the worst pants worn to school, claiming that if you wear the red and black pajamas, "you [are] just weird." The video received over 1.4 million views with over 150k likes. Despite videos like these hating on these pajamas, Xu feels no sense of discouragement from rocking his pair.
     "The fact that everyone has a pair of these pants makes me feel more welcomed when I wear them," Xu said.
     Xu also claims that the increasing number of people wearing pajamas to school is also due to spending a year of school online.
     "People were used to wearing pajamas to class straight out of bed during COVID," Xu said. "Now people still do the same since the habits have remained."
Leave a Comment
About the Contributor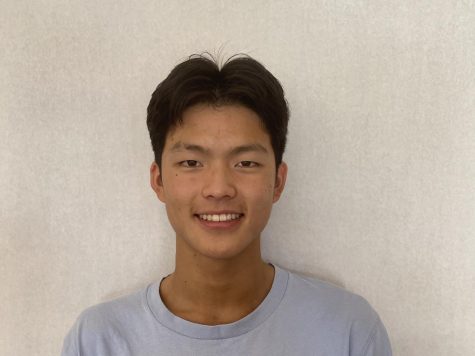 Edi Zhang, Editor-in-Chief
Edi Zhang is a senior and will spend his fourth year on The Stampede as the Editor-in-Chief. He is honored...