Follow up: Politics still in sports
A year ago, I contributed to a story highlighting the rising political atmosphere in the sports world. The article documented the hypocrisy surrounding the debate for politics in sports, focusing on Black Lives Matter movement. With time, new facets of the issue have arisen, along with the need to revisit the ideas previously expressed.
       The piece mainly revolved around the notion that politics don't belong in sports; often attributed to those opposing the Black Lives Matter movement. One of the most significant points in that article stemmed from Fox News anchor Laura Ingraham, who told National Basketball Association (NBA) superstar Lebron James to "shut up and dribble" years prior. Ingraham, like numerous others, doubled down on her claim that politics shouldn't have a place in sports whatsoever. 
     One of the earliest examples heavily cited by the media was that of former San Francisco 49ers quarterback Colin Kaepernick, who was crucified for taking a knee during the national anthem to protest racial injustice and police brutality in America. Deemed  a traitor by some in the media, this act sent Kaepernick into early retirement. His views not only cost him his career on the field, but they also resulted in him becoming a punching bag for the far-right media even to this day.  
     On Oct. 4, 2021, NBA player Jonathan Isaac, an outspoken vaccine critic among NBA players, joined Fox News to discuss his vaccine hesitancy. The same channel that boasted about politics not belonging in sports and ran countless segments on Kaepernick.  
     "I believe that we're entering a period in time where the government is setting a precedent that in light of any emergency, your personal autonomy, your religious freedom, and your freedom as a whole becomes negotiable," Issac said.
     Isaac, making headlines last year for his refusal to kneel during the national anthem, is one of the last unvaccinated athletes. In addition to Isaac, Buffalo Bills wide receiver Cole Beasley has been very vocal on Twitter about his stance on vaccination. 
     "I'm not a politician nor do I want to be involved in anything political but for some reason that is what the world is coming to. Please try to let people think for themselves…" Beasley said in a Tweet.   
     Both Isaac and Beasley are only two of the few athletes vocal about their vaccine stance. Recently, all eyes have been on Brooklyn Nets Guard Kyrie Irving, whose refusal to get the vaccine has sparked national attention. Unlike Beasley, who has continued to play football, Irving has sacrificed his career and millions of dollars to hold his ground. Due to his vaccine attitude, the former number one overall pick isn't eligible to compete in home games for the Brooklyn Nets for the time being. 
     "I chose to be unvaccinated, and that was my choice, and I would ask you all to just respect that choice," Irving said. "This is not a political thing; this is not about the NBA, not about any organization. This is about my life and what I am choosing to do".
     Unlike Beasley, who has been taunted at home games by Bills fans, Kyrie has garnered some support for his stance. In Brooklyn, a large group of protesters took to the streets, chanting things like "my body, my choice" and "stand with Kyrie." The protest was quickly shut down minutes after the crowd attempted to storm the entrance of Barclays Center. 
     Since the news broke about Irving, Fox News has written headlines like "Liberal Media turns on progressive NBA star Kyrie Irving for breaking rank with left on vaccine mandates." 
           In only one year, the narrative has completely spun. My intentions are not to play devil's advocate for either side as far as vaccination goes. When it was athletes taking a stand for social justice, right-wing media proclaimed politics didn't belong in sports. One year later, the same group is citing athletes like Irving as examples of why politics should have a place in sports. 
     Regardless, the hypocrisy isn't entirely one-sided. Arguing against politics in sports when it goes against your beliefs before backtracking and arguing that they do when it fits your narrative only fuels the division. 
     Democrats and Republicans alike need to come to the realization that politics undeniably belong in sports. Short and simple. Politics in sports is nothing new, therefore the inclination to argue whether or not they belong is baseless. 
     After 9-11, former President Bush threw out the first pitch in the 2001 World Series. In 1968, NBA basketball legend Kareem Abdul-Jabbar refused to participate in the Olympics in order to protest inequality. Jesse Owens dominated in front of Adolf Hitler during the Munich Olympics of 1936. 
     Politics have always been in sports and that will never change. 
Leave a Comment
About the Contributor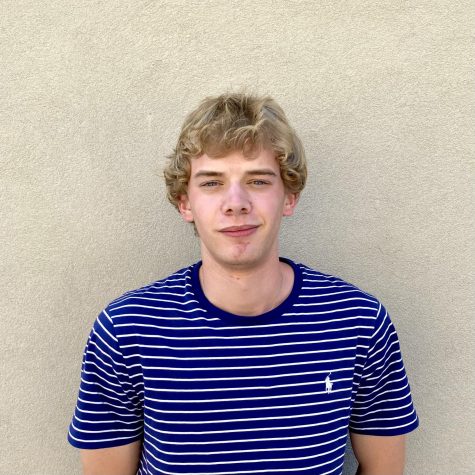 Brooklyn Weber, Sports Editor


Brooklyn Weber is Senior at Monte Vista, returning for his third year in Journalism. In addition,...