The New School Year Welcomes Students…and More Traffic
Monte Vista High School has seen a different type of stampede on campus—one to beat traffic. 
     The start of the 2021-2022 school year has experienced a surge of traffic both in the morning and after school. This increase in traffic has been accompanied by Monte Vista's return from hybrid learning and the adoption of an odd-even alternating block schedule. 
     "I've definitely been late a few times," bus rider and junior Ella Dinh said. "I'll go to my first-period class, yoga, and I'll [explain that] my bus was late again. It's a pretty normal thing." 
     Lengthened commute times have made it seem like a herculean task to get to school on time. Students like Dinh receive tardies and teachers are robbed of invaluable class time. 
     "It's been very frustrating," Speech and Debate teacher David Matley said. "Too often we've had to wait to get started [and] on days we couldn't wait, students missed important information."
     The paramount problem and perhaps the greatest solution lies in the schedule change. With this year's block schedule, Tuesdays and Thursdays now have periods A, 2, 4, and 6 while Wednesdays and Fridays incorporate periods 1, 3, and 5.
     On Mondays, Tuesdays, and Thursdays, students who take an A period or have opted out of a 6th period are able to arrive or leave earlier, respectively. This applies to a significant portion of the MVHS student body .On those days, staggered schedules alleviate a large amount of traffic coming from school grounds. 
     "You can see the impact of that when there's not a staggered schedule [on Wednesday and Friday block days]," The Town of Danville's Transportation Manager Andrew Dillard said. "It's hard to miss." 
     On Wednesday and Friday block days, the vast majority of students start and end school concurrently. The sheer number of students entering and leaving the school at one time leads to long delays, negatively affecting students and staff. 
     MVHS Counseling Secretary Chris Watson suggested that the gridlock could be partly fixed with more students carpooling. 
     "[Traffic] is at a high level this year, more than in the past," Watson said. "It's just a matter of coordinating, maybe setting up carpools."                
     Dillard added that this lack of carpooling could be an impact of the lingering COVID-19 pandemic. 
     "With the spread of COVID-19, people don't want to be in such close quarters with other students," Dillard said. "When fewer students are able to carpool that has a big impact. That [carpooling] is a big contributor to having less traffic on our roads."
     Parents, predominantly new parents, add to this problem as many of them are uninformed about the various drop-off locations around Monte Vista. 
     "We have not only one year of new parents dropping off and picking up at a high school, but two…and they're just not aware [of these areas]," Watson said. 
     According to Watson, alternate drop-off and pickup locations include the trail by Los Cerros and Oak Hill Park. Additionally, nearby churches including St. Timothy's Church and Rolling Hills have permitted students to be picked up in their parking lots. 
     Moreover, when Monte Vista traffic collides with blockage from nearby schools, it only exacerbates the issue. Taking a look at the dismissal times, we can see just how all this traffic is accumulating. 
     A 7-minute drive away and adjacent to Monte Vista is The Athenian School. Depending on student elective choices, Athenian students are released from school at either 2:40 p.m. or 3:35 p.m.
Additionally, the neighboring school Los Cerros Middle School and Monte Vista High School dismissals are synchronized, both ending at 3:00 p.m. Monte Vista's schedule is also intertwined with Vista Grande Elementary School, whose end time is 3:15 p.m., increasing traffic even more.
       A decline in carpooling, schedule coordination between nearby schools, and a lack of awareness about alternate pickup and drop off locations have made this a unique, multifaceted,  traffic predicament. While the current traffic situation may seem dire, there is still a headlight at the end of the tunnel. The adoption of staggered schedules, new areas for school transportation, and other solutions can make MVHS traffic just a bit more bearable. As for traffic in the long term…   
     "We always have traffic congestion throughout our elementary, middle [and high] schools in SRVUSD. That's just the nature of the beast," Dillard said.
View Comments (1)
About the Writer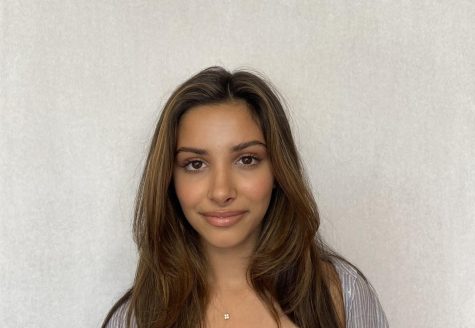 Olivia Brandeis, Feature Editor
Olivia Brandeis is a sophomore at Monte Vista. This is her second year on The Stampede and she will...