SRVUSD plans for 2021 AP exams
With a couple remaining months of the school year left, some students have begun preparing to take the Advanced Placement (AP) tests held from the weeks of May 3 up to June 11. However, due to COVID-19, not all tests will be held in-person, and some will be taken digitally from the comfort of one's home. 
The College Board released information on the scheduling of AP exams by dividing test dates into three categories: Administration 1 (May 3 to May 7, May 10 to May 12, May 14 and May 17) will be taken in person, Administration 2 (May 18 to May 21 and May 24 to May 28) will be offered both in-person and remotely, and Administration 3 (June 1 to June 4, June 7 to June 11) will be offered in-person and remotely. Within the parameters set by the College Board, the San Ramon Valley Unified School District (SRVUSD) created a schedule that all students taking the AP exam will be following. 
As such, the College Board created the digital exam and in-person exam to have similar content in different versions. Digital versions of the exam will start at the same time worldwide and are a full-length version of the in-person exam. The digital exam can only be accessed through a MAC or Windows laptop or computer or a school-issued chromebook. One new component of the digital exams is that students will not be able to return back to their questions or move back and forth after submitting a question, which raises concerns for some. Junior Kevin Wang is planning on taking six AP exams this year, two of which has a multiple choice section.
"I always double check my answers before I submit the test, but with the [AP U.S History] test I will not have the ability to do so, which is a little frustrating," Wang said. 
The College Board has mandated strict consequences for cheating, which state that a student's score will be cancelled and that individual will possibly be banned from taking further College Board assessments if they decide to use textbooks, study materials and internet searches or are caught collaborating with others over video call chats. The College Board has enacted a plagiarism detection software and post-exam analysis to identify any student collaborations that can catch students who cheat on their AP exams. 
Because SRVUSD has finalized the AP test schedule, students don't have a choice between taking their exam in-person or digitally. The week of May 3 to May 14 will be held in person following the tests of: Calculus AB, Japanese Language & Culture, Physics 2: Algebra-Based, French Language & Culture, Spanish Language and Culture, Music Theory, and  Chinese Language & Culture. Through the week of May 17 to May 21 will be held digitally at home following the tests of: English Literature & Composition, Computer Science A, European History, US History, Macroeconomics, US Government & Politics, World History: Modern, and Psychology. May 24 and May 25 will be held in person: Calculus BC, Physics C: Mechanics, Chemistry, and Statistics. May 26 to May 28 will be held digitally following the tests of: English Language & Composition, Computer Science Principles, Seminar, Biology, Environmental Science, Comp Government & Politics, Human Geography and Microeconomics. 
While some are reluctant to be taking the digital exams, others see this as a better option than going to campus to take the test. Junior Khushi Kunjoor is planning on taking two AP exams, both of which will be held digitally. 
"I think taking it online is way more convenient [because] I don't have to worry about transportation and taking COVID safety precautions, as I get the chance to take it from the comfort of my own home," Kunjoor said. 
Leave a Comment
About the Contributor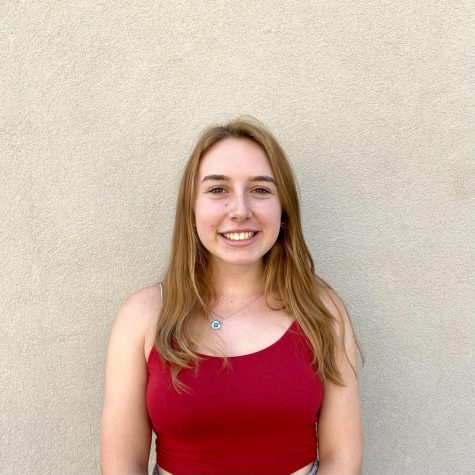 Angelina Izmaylova, CC Spin Editor


Angelina Izmaylova is a senior who is the CC Spin Editor and Breaking News Editor for The Stampede....