TV adaptations bump books back onto bestseller lists
As of Jan. 24, romance novel "Bridgerton: The Duke and I" had re-entered the New York Times Bestseller list for the second time after 20 years, the only novel breaking into this list that had not been published within the last decade. 
    "Bridgerton" was not the only anomaly: redheaded Beth Harmon, navigating the male-dominated world of chess in the 1960s, came in alongside "Bridgerton's" Austen-esque ballrooms for 10 weeks in the category of Paperback Trade Fiction at #7. The Queen's Gambit, published in 1983 by Walter Tevis, had made it back to the Bestseller list 37 years later.
    The "Bridgerton" series and "The Queen's Gambit" have another commonality: In recent months, both shows' TV adaptations were released and both fared extremely well on Netflix. But while everyone was binge-watching, others were reading those books enough to make them re-enter the Bestseller list, even with the shows readily available.
    "If I enjoyed the show, I always want to find a different way to enjoy the story all over again in a different way," junior Claire Phillips said. "Books are the perfect way to do that, because I'm a huge bookworm. If I loved the show, I already know I'll like the book. So 'The Queen's Gambit' is on my list."
    On the other hand, other students are looking forward to seeing their favorite books brought to the big screen. Junior Mackenzie Rebello is looking forward to the 2021 adaptation of the young adult sci-fi novel "Chaos Walking," which will star Tom Holland and Daisy Ridley. 
    "I think [movie] adaptations encourage teens to read because usually when a book is made into a movie people want to read the book to get the whole story," Rebello said. "[They want to know] what to expect in the movie, or maybe watching the movie encourages them to read the book it was based on. If I enjoy the movie, I will definitely read the book."
    Nearly half the time I watch a movie adaptation of a book I am disappointed in some way—I agonize over the absence of a minor character, I scrutinize the costumes and wonder if the designer had even read the book… etcetera. But when it's the other way around, when I am watching a movie that I've never read the book of, I'm not thinking, this character is so flat, or, his hair is supposed to be red! I don't have any extra depth to miss out on, so I don't miss anything. 
    Monte Vista librarian Julie Garrahan finds she's only been disappointed a couple of times when it comes to adaptations: "Normally I can [perceive] books and movies as individual creative efforts. The movie I had a lot of trouble with was the Ready Player One. To me, the movie didn't follow the book at all and I found that very jarring. It was more inspired by the book than based on the book…but listening to people that loved the movie I would say that you have to just judge them separately rather than think they are going to be the same story."
    Yet books being made into shows and movies almost always increase the number of people reading the book, whether they read it before, instead of, or after seeing the movie. In fact, this is also true vise versa; many current popular reads have been based off of TV in some form: "Avatar, The Last Airbender: Rise of Kyoshi" has spent 13 weeks on the New York Times Bestsellers' List, a Young Adult novel based off the "Avatar" TV show.
    "I can tell you that this year alone I've probably read the book after watching the movie maybe five or six times," Garrahan said. "Sometimes a movie actually brings forward a book that might have been forgotten. Currently, we are having a real moment for the 'Bridgerton' series, in which some of those books are eight or nine years old and are finding new life because of the [TV] series. In fact, they are having such a moment that Amazon was unprepared for it, and currently I can't get a copy of them for the library."
    An interesting case of book-to-move correspondence is "Dune," the iconic sci-fi novel written by Frank Herbert in 1965. And as of Jan. 12, "Dune" was at #2 in Audio Fiction on the Bestseller list. The 2021 sandy, star-studded movie adaptation's trailer had dropped a few months prior. Apparently no one, including me, could resist Zendaya with blue eyes, Timothee Chalamet dressed in all black, and Pink Floyd playing in the background. I have the book on hold at the library right now because I know that after I've seen the movie, I probably won't be motivated to go back and read the book. But not everyone feels this way.
    "Many times I will be buying books based on what is hot on Netflix [for the library]," Garrahan said. "For instance, when I first got back I bought "The Kissing Booth," because that was a pretty popular show on Netflix. I think that when we watch a movie, sometimes we are interested in going back to the original material and seeing how much more there is to the story."
    At least we know that 2021 looks good in one aspect: new titles, from "Shadow & Bone," based on Leigh Bardugo's Grishaverse novels, to "Death on the Nile," an adaptation of Agatha Christie's 1930s mystery, to "Dune," there is no doubt that this year looks excellent for readers and moviegoers alike—and maybe fans of both mediums will look into switching the ways they experience stories.
Leave a Comment
About the Contributor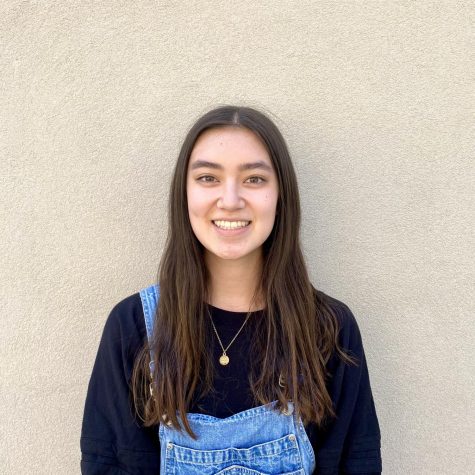 Macie Calvert, Editor-in-Chief
Macie Calvert is a senior in her third year of Journalism and the editor-in-chief of The Stampede this...