Singer Alex Silva releases new single
Through countless hours of effort, Monte Vista Senior Alex Silva released his first single "Who Would Have Known" pursuing his passion in singing. Behind the scenes takes us to a glorious journey of Silva's beginnings and inspirations.
This is the first time that Silva had ever written a song on his own, and he was really excited to start the production process while experiencing what being a solo artist is like. He started to produce the song in his bedroom with the instruments and materials that he had available at hand. He made the beat, soundtracks, and then started the chorus and production of the song.  Silva started to play piano after him and his parents went to Saint Mary's Music Store, and started browsing the piano section. His parents got very interested in a couple of the pianos and decided that it would be good for him to learn how to play an instrument. They picked out a piano, and Silva's music journey started.
He started music about eight years ago, when he began taking piano lessons. When he first started, he did not like playing at all because his parents forced him to begin taking lessons, and his newfound piano teacher was only teaching in classical methods and playing classical music.
"I really didn't want to play piano," Silva said. "It looked like it would be pretty boring, just pressing a few keys, and it wasn't all fun at first." This mindset from a few years ago has now grown into Silva finding a love for the instrument, and an expanding passion for music.
He then went on to singing and progressing in piano. As Silva got older, he grew to love music more and more, so much so that when he reached high school, he joined his high school band. They have performed multiple times together since. Some events that they've performed in are the Downtown Danville Harvest Festival, Blackhawk Plaza Evening Dinners, and some bigger events such as the Pops Concert in 2019. During these events, he sang songs like "Feeling Good" by Michael Bublé, and many different Bruno Mars songs.
"I loved singing at these events, and that's what really started to push me even more to continue making songs and producing music," Silva said.
During his music pursuit, his girlfriend came into his life . They became very close and grew to love each other very much. Silva wanted to get her a really nice gift for Christmas, but couldn't think of what to get. He was thinking of going to an ice store and shopping for a gift for her, but he decided that he wanted the gift to be sentimental in order to show his girlfriend how much he cares about her. This is when his little brother suggested that he could write her a song.
Silva was inspired by artists that he looks up to, such as Bruno Mars and Charlie Puth. He also looks up to Jeremy Passion, a local R&B/Soul artist. Alex started to write the song, and eventually found lyrics that he thought would shape up into the song perfectly. "This song had me really excited, and I couldn't wait to see my girlfriend's reaction the first time she heard the song I worked on for her," Silva said. There was only one thing left: naming the song.
There were a few titles that crossed his mind, but one name in particular kept popping up in his head; "Who Would've Known." He settled on the title of the song because he thought about a statement he made:"Who would've known that my girlfriend and I would have experienced and been through so much together?"
This song had a lot of thought put into it. The song symbolizes their relationship and love for each other and how much they mean to one another. There is a lot of hard work and time put into this song, and in the end, it had an outcome that Alex and his girlfriend were happy about. "There's going to be more in store soon," Silva says. "Be ready for the next songs to come."
Leave a Comment
About the Contributor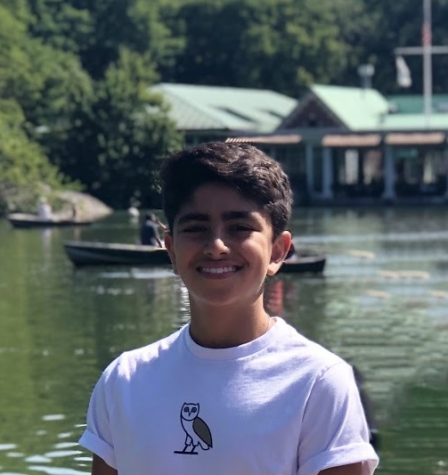 Shayawn Golchehreh, Staff Writer
Shayawn Golchehreh is a freshman and will be a Staff Writer for his first year on The Stampede. This...